If You Want Less Pet Hair Around the House, Try Vacuuming Your Actual Pet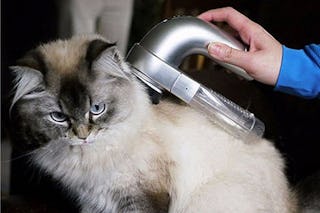 StackCommerce
We do just about anything for our pets—excuse me, our fur babies—and we don't plan to stop anytime soon. But much like babies, pets come with a lot of work. There's training, quality time, and most notably, cleaning. Pet hair quickly goes from your pet's body to the floor, followed by fluttering around with each sway of air until it's covering every inch of your floor and furniture and maybe even got into your freezer that one time (no judgment here). Battle all the shedding fur before it even leaves your pet's sweet body with the Shed Pal Pet Fur Grooming Vacuum.
But we're not talking about vacuuming your floors—we're talking about vacuuming your pet. The gentle massager sucks up shedding fur as you brush your cat or dog, tackling grooming, cleaning, and quality time in one swoop. You'll score loads of wet-nose nuzzles and slobbery wet dog kisses to boot.
Sound weird? It might take some getting used to, but the device is safe and effective. The Shed Pet Fur Grooming Vacuum quietly sucks up loose fur without the pain of wire bristles, the anxiety-inducing noise of a machine, or the confines of a cord. The handheld cordless vacuum is powered by AA batteries and has a soft rubber nozzle. Even a puppy whose always on the move can be groomed with the cordless tool's mobility.
The compact Shed Pal Pet Grooming Vacuum is easy to store and can seriously lessen the amount of time you need to spend cleaning your house of dog or cat hair. For a limited time, you can get your own at a 64 percent discount at a final price of $24.99.
This article was originally published on