Pillsbury Just Released Lucky Charms Cookies Filled With Marshmallows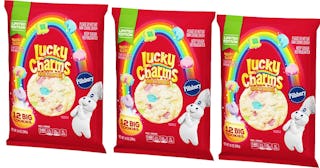 Walmart
Your kids are going to flip out for these Lucky Charms cookies that include those all-important rainbow marshmallows
When someone says "Lucky Charms" let's be real — the first (and only) thought you have is MARSHMALLOWS. They're so popular they're even sold separately in giant form. All of that said, how about easy-bake cookies full of them? That's now your reality because Pillsbury just released Lucky Charms cookie dough with those tasty marshmallows baked right in. Drool.
They're available at Walmart, as popular Instagram account The Junk Food Aisle handily points out. "Limited Edition Pillsbury Lucky Charms Cookie Dough!" they write. Which, yes, it apparently won't be around forever, which is all the more reason to get to the store now and stock up.
Now, you might be thinking that it's the Christmas season and people are probably already baking up a storm, but maybe you're like me and follow a recipe to a T only to have your family say things like "these taste like chalk" and "they're so dry I almost choked." If so, just hop on the pre-made dough bandwagon with me and work these tasty rainbow miracles into your holiday dessert routine. I mean, why not? You really need no special reason for Lucky Charms, but if your family's expecting cookies, then cookies you shall produce.
And call us crazy, but maybe these extra marshmallows can somehow be worked in post-bake. Because they're just too adorable and yummy-looking not to.
Let's also remember that us parents have an entire winter break to get through and it's coming up fast. Time to stock up on easy-bake dough so you have a fun activity for the kids that requires exactly zero mess (and barely any effort) on your part. After all, you'll have just finished playing Santa and will be totally exhausted and done. Let Pillsbury pinch hit for you and make you look like an instant hero in the process, because your kids will be all about these fun little treats.
This article was originally published on