The Most Popular Pistachio Pedestal On The Internet Is Selling Out Fast For Father's Day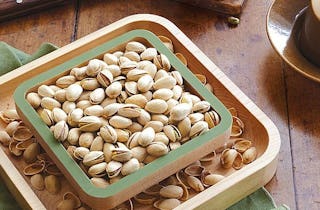 When you hear your favorite dad eloquently crunching from a mile away, you know there's a trail of pistachio shells being left behind. And that typically means you'll find them in the Bermuda Triangle that exists between the sofa cushions. (You know, the one that swallows up remotes, keys, and cheerios.)
This solid wood serving tray provides a charming solution to dad's pistachio shell dilemma. The top tray, lined in an appropriate shade of green, is where he can keep his pistachio nuts. The tray underneath is the spot where the cracked-and-licked shells can go. Genius!
Made of sustainable North American maple in Dorset, Vermont, this unique invention is rubbed with teak oil for a food-safe, sleek finish. It's the most popular pistachio pedestal on the internet, and they've been selling like hotcakes for Father's Day. Remember: when everyone tells him how amazing it is, you'll be the one getting credit for it.
Read More:
Shittens Are The Answer To Our Parenting Prayers And They Make A Great Father's Day Gag Gift
This Convertible Bean Bag Bed Is A Sleepover Essential
These 50+ Baby And Parenting Products Are Freaking Genius And We Need Them All
Our mom experts only recommend picks they really love. We may earn a commission on purchases made through links from our site, but if we love it, we know you'll love it. And we Scary Mommies gotta stick together.
This article was originally published on