The Pocket Printer Is The Gadget You Didn't Know You Needed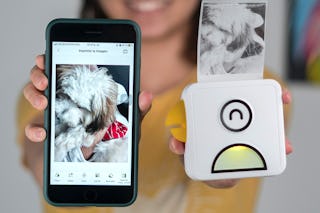 StackCommerce
Moms are multitasking superheroes. But even superheroes need a little help sometimes. With endless to-do lists and must-do tasks floating around in our heads, it would be nice if we had time to write everything down and make sure it all gets done. Unfortunately, living in a global pandemic means there's more than ever on our plates, and we don't always have time to put pen to paper to be productive. That's where a compact printer can help… especially a conveniently ink-free one that fits in your pocket.
The PooooliPrint L1 Inkless Pocket Printer gives you the ability to print on-the-go. It's packed with ZeroInk technology so you can print from your smartphone and have physical copies of whatever you need, without the hassle of replacing ink cartridges. This handy helper is currently on sale for $79.99, but you can take an additional $10 off with coupon code PRINT10 and get it for $69.99 for a limited time.
Let PooooliPrint L1 let you print out those pesky to-do lists, notes, and more, keeping you organized with just your smartphone and the touch of your finger. It prints in seconds, so you won't waste any time, and it provides 200dpi resolution, so all of your prints are great-quality. And it's not just great for multitasking! Did you snap a seriously cute picture of your kiddo? Immortalize it in hard copy by printing it out. Then you can use the PooooliPrint L1's detachable beak as a magnet or card holder to display your print anywhere.
All the printed materials are water-resistant, oil-proof, and scratch-free. And, you can enjoy 24 hours of printing on a single charge. Once the battery runs out, it's totally rechargeable via a USB port or charger. And with 4.1 out of 5 stars on Amazon, you know it's seen plenty of happy customers.
Make sure your important notes and photos are immortalized forever with help from the PooooliPrint L1 Inkless Pocket Printer. It's available now for just $69.99 with coupon code PRINT10.
Prices subject to change.
This article was originally published on