7 Hair Dye Kits That Are Safe For Pregnant People, According To Experts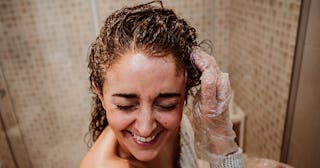 Getty Images/ Lucia Romero Herranz / EyeEm
There are some beauty routines that we're told may be unsafe for pregnant people, like dyeing hair — but is there hair dye that's safe for pregnant people? We'll dive into that in a sec. From the moment you see those two lines on that positive pregnancy test, your mind starts racing as you imagine all of the ways your life is about to change. In the short-term, you might be thinking about all of the dos and don'ts of pregnancy—like, can you still enjoy your morning cup of coffee, continue with your exercise routine and get your hair colored? The good news is that most practitioners will say yes to all three with some guidance of course and limitations of course. And if you're interested in learning more about pregnancy-safe shampoos, pregnancy-safe face wash, and pregnancy-safe sunscreen, we're got ya covered there as well.
Is it safe for pregnant women to dye their hair?
When it comes to dying your hair, the American Pregnancy Association states on their website that most of the research that is available in regards to using hair dyes and treatment chemicals during pregnancy indicate that they are not highly toxic and generally safe for use while pregnant and breastfeeding. That's why most hair stylists will tell you that, so long as you're using foils and aren't placing the hair dye directly onto your scalp, that you don't have anything to worry about during pregnancy. However, this is not always the case for the kind of hair dyes you use at home.
"Most people do not realize that your scalp is just another term for the skin on your head, and what you put on your skin can actually be absorbed and potentially pose some level of risk to your internal health," says trichologist and hairstylist Kerry E. Yates, the CEO of Colour Collective. "Some hair dyes contain ingredients that can be dangerous for you and your baby."
The issue with DIY color, according to Holly Dear, hair artist and owner of House of Dear Salon and House of Dear Hair Care Collection, is that you just grab something in a box, you don't really know what's in there. The ingredients in hair dyes that she recommends avoiding when pregnant are ethanolamine, aminophenols, and phenylenediamine. "PEGs can also be recognized by our body as estrogen which can cause enormous fluctuation in our estrogen levels which are already fluctuating," she adds.
To be safe, both experts recommend consulting with your primary care physician or OB/GYN before using any at-home hair dye to ensure that it does not pose any risk to your pregnancy.
With their thumbs up, here are the brands that hair experts say are ideal for pregnant clients.
Best Pregnancy-Safe Hair Dye
Check out other beauty must-haves that get the mom stamp of approval here.
This article was originally published on