The $30 Princess Dress Is The New Nap Dress, And It's Going Viral On TikTok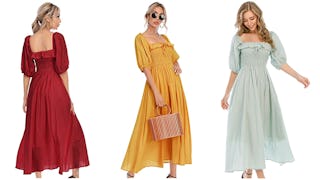 Amazon
Your frolicking-in-a-field dreams are about to get a lot more regal in this incredible Amazon princess dress. Both Amazon shoppers and TikTokers are raving about the R. Vivimos Summer Half Sleeve Ruffled Dress because it's basically the closest thing you can get to cosplaying as a fairytale princess without catching weird looks from your neighbors. Move over, nap dress. Summer princess dress has arrived.
Available in 14 beautiful nature-inspired colors like sage green, mustard yellow, and rusty orange, as well as sizes ranging from XS to XL, the R. Vivimos dress needs to be in everyone's cottagecore princess starter pack. It's super flattering on all body types, thanks to the shirred bodice (which means it's stretchy AF/super comfortable) and is incredibly breathable thanks to the cotton blend fabric it's cut from.
And when you're done frolicking in your fields and picking wild raspberries for a late-afternoon picnic, you can wear this dress to a summer wedding (pair with heels and a clutch), a casual cookout (add sneakers and a denim jacket), or wear it as a beach coverup. The possibilities are endless.
"I love this dress!" one five-star Amazon customer wrote. "I feel like a princess in this dress. I like how you can wear the sleeves up or down." Another five-star review reads, "This dress is darling. I got it in the beige shade thinking I could wear it into fall and I couldn't be happier…It fits perfect, because I'm so short it just [skims] the floor but I planned on hemming it anyway…I want to order it in black as well!"
And this five-star reviewer provided beautiful photos of herself in the dress, writing, "I want it in pretty much every color. For me, I don't need to wear a bra and that's a total plus! It's super light for the humid summer days in Virginia—I have it in orange as well and hope to wear it into the cooler months."
Cottagecore princess mode: unlocked.
This article was originally published on