Pumpkin Spice Lattes Are Officially Back Next Week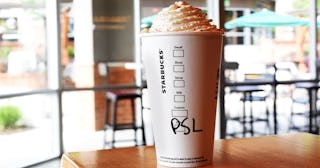 Starbucks
Pumpkin Spice Lattes are coming back super early and we're honestly pumped
Word on the street is that Pumpkin Spice Lattes are back! For the last few days, the internet has been abuzz with rumors of the infamous PSL return and now Starbucks has officially confirmed that the popular fall drink will arrive on August 27, 2019 — making it the earliest PSL launch date ever!
Fall doesn't even officially begin until September 24 and most places in the world are experiencing extreme heat waves, but climate change be damned because the people need a hot cup of pumpkin spice in the middle of summer. To be fair, Pumpkin Spice Lattes are also served cold and in Frappuccino form, so you can absolutely guarantee we will be sipping on the squash-flavored drink by the pool next week.
Last year Starbucks rolled the drink out on August 26, which shocked the nation as they previously only released the drink in September. If they keep this up, we'll be drinking Pumpkin Spice Lattes year-round. Plus, Starbucks already announced a line of Pumpkin Spice-inspired grocery store items like PSL creamers and cookie straws, which are already available to shop.
The PSL was first introduced in 2004, and since then it has become a fan-favorite and synonymous with all things fall, cozy, and basic. Though the drink is a relatively new phenomenon, there is something nostalgic and comforting about the pumpkin-flavored treat. One might even credit Starbucks for the overwhelming cultural obsession with all things pumpkin-flavored. Everything from beer to Kit Kats is flavored like pumpkin now.
As for PSL's return date, the internet is…mixed. There are the "fall enthusiasts" who cannot wait…
…and the rest of the world, who can't believe that the PSL debut keeps inching closer and closer to the start of August.
Business Insider has tracked the PSL launch dates since 2011 and it's interesting to see the dates creep up each year. Traditionally, the drink returns after Labor Day but in 2018, everything went out the window and the Starbucks gods were like, "just give it to them in August."
That being said, baristas have been secretly making the drink for staffers all month long.
A bunch of baristas joked on Reddit that once PSLs go live for the public, it's the only drink they'll make until Christmas, which brings a whole other set of seasonal and beloved drinks.
"My trainer joked that she was simply gonna show me how to make PSLs since that was pretty much all I was gonna make," one barista wrote.
"My trainer said that even if i couldn't do anything else i NEEDED to know how make this one drink," said another.
Yes, it's unbearably hot all over the United States right now, but as far as we're concerned — fall begins on August 27.
This article was originally published on