This Automatic Purse Light Saves You Time And Sanity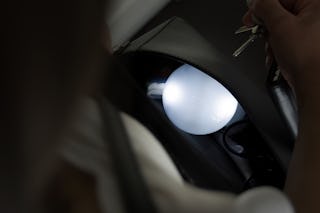 StackCommerce
No matter how hard you try, it's pretty much impossible to keep a purse organized. And a diaper bag? Forget it. These items inevitably become black holes of hair ties, snacks, pacifiers, and all of your other mom must-haves. And despite endless digging, sometimes you can't find things you are absolutely positive you put inside. That's where the SOI Purse Light with Automatic Sensor comes in handy—providing some much-needed light in the darkness to help you find exactly what you're looking for. Right now this perfect purse and diaper bag accessory is on sale for just $24.99 for a limited time.
The SOI purse light is the first automatic handbag light that lights up as soon as you start looking for something in your bag. And unlike competitors, it doesn't require you to hit a button or a switch for it to light up. Nope, just simply starting your search alerts the SOI Purse Light to brighten, thanks to its proximity sensor that automatically illuminates as soon as your hand enters the bag. It also automatically shuts off ten seconds after you're done searching, making it incredibly low maintenance as it turns itself on and off.
Perfect for handbags and diaper bags, the SOI Purse Light can also come in handy in other places a small mobile light would be helpful, like suitcases and backpacks. The circular shape has a timeless design, and the LED light source has a battery life of 6,000 cycles (which amounts to 1.5 to 2 years).
With 4.3 out of 5 stars on Amazon, customers are satisfied with this genius invention. One happy reviewer raved, "I bought this for my wife, hoping that she'd like it. Oh my goodness, it has gone from bag to bag to bag and is ALWAYS with her. It's just so easy to use as there are no switches to worry about. You just put your hand inside the bag to look for something, the light comes on, then once your hand is out of the bag, it turns off after a few seconds. So simple! I have bought several other[s] since then as gifts and they are universally well-liked by everyone who gets them. Fabulous product."
Never dig fruitlessly in your purse again! Snag the SOI Purse Light with Automatic Sensor for $24.99 today.
Prices subject to change.
This article was originally published on