These Retro Kitchen Items Will Deliver All The Vintage Magic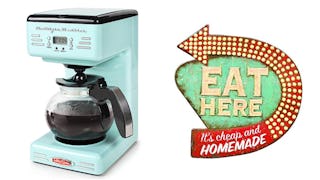 Image via Amazon
Sometimes we have the urge to completely redo a room in the house. But honestly, when was the last time that room was the kitchen? If your kitchen is in need of a fun boost, then I think it's time to throw it back. Way, way back. Like retro vintage style type of way back. Places like Amazon and Nordstrom are selling quite possibly the cutest retro appliances and household items that will make you want to pour a stiff drink, kick back, and live your very best Mad Men life.
And the great thing about living in today's world? We can have that classic retro look (i.e. amazing pops of color) with much better quality and many more features. Things like vintage electric stoves are a thing (yay!), vintage style refrigerators with ice machines, and more appliances than you wouldn't believe (I'm talking about retro juicers, people!). Bring your favorite style into 2021 with these amazing retro appliances! Time to blast that Elvis and get cookin', because your kitchen is about to be transformed into a complete retro dream.
Don't worry, beehive hairstyles can be left firmly in the past.
Retro Kitchen Appliances
Retro Kitch Decor
Welcome to your brand new, delightfully vintage kitchen. You might want to warn guests about the strong nostalgic side effects they'll experience when dropping by.