Revly's Hair, Skin & Nails Biotin Vitamins Gave Me My Thickest Hair, Ever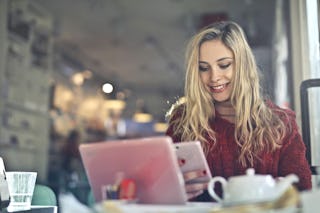 Pexels
After lightening my hair (and bleaching it in the process) it completely lost its voluminosity over night. At the same time, I was stressed out at work and not sleeping super well, and basically my body was just like, "I give up!" It was a perfect storm. My hair was so unhealthy and dry that it started to fall out, my skin was uneven, dull, and breaking out, and my even my nails were brittle and weak. I needed a good hair mask, more fruits and vegetables, sleep, and some kind of miracle in a bottle.
Which is what Revly's hair, skin, and nails complex with biotin supplements ended up being. Formulated with biotin 2,000 mcg and MSM 300mg as well as botanicals that naturally support hair, skin, and nail health, you only have to take one capsule a day (and you get a 3-month supply). Within a few weeks (it doesn't happen over night), I noticed thicker, more vibrant hair (all the strands that snapped off thanks to bleach had started to grow back), my skin regained its elasticity, and my nails became stronger.
Other reviewers on Amazon have left glowing reviews, one saying, "I was noticing after a stressful period in my life that my hair was getting brittle, dry and frizzy. My nails weren't as shiny as they used to and started to crack. My skin lost its glow and vibrancy. That's when I decided to search for a good quality product without overpaying. I've compared the ingredients of this supplement to other "high rated, high reputation" brands and it seemed to be superior to most. I took a risk by buying an item that has no reviews (which I usually don't do since they're so valuable) but, because Revly is an Amazon Brand, I decided to give it the benefit of the doubt, and I'm glad I did. It's been about more than a month since I started taking this product and my hair looks fuller, shinier and healthier…almost no frizz! My skin glows, is clearer and my mom can't stop noticing how healthy it looks. My nails are getting less and less brittle as well as growing out healthier. I highly recommend trying this product for yourself as it really works."
Another wrote, "I just recently finished the entire bottle of this hair, nails, and skin formula. My hair is super curly 3c/4a it appears as though my hair has stayed the same length for years. My hair shrinks all the way to my chin in its natural curly state, but stretched, it's past bra stap length. My hair is also super fine and fragile, so my hair can break as fast as it grows. It looks like I've gained about 1 1/2 inches during the time I've been taking these. That means I retained the length I've grown with little to no breakage. I am thrilled. I also make sure I eat plenty of raw greens everyday, and I do weekly rice rinses as well. I will be repurchasing."
Check out other vitamins and supplements from Revly.