Sit Back and Relax While This Robot Vacuum Deep Cleans Your Floors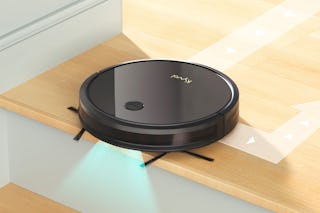 StackCommerce
Ever wonder why in vacuum ads it's always women happily doing the vacuuming? Whether our partners take on that chore or that annoying responsibility ends up on our plates, one thing is for sure–no one is really smiling while working up a sweat trying to vacuum up the cereal their toddler chucked under the table. And, though there are a lot of downsides to running a home in 2021, there's one technological advancement that can make life easier: the robot vacuum.
There are lots of chores we can't trust robots with yet, but vacuuming is one that's been perfected. The Kyvol Cybovac D3 Robot Vacuum Cleaner proves that, getting the job done while you take a much needed break (or, you know, tend to the other 20 items on your to-do list). Right now, this innovative cleaning solution is on sale for a limited time for $139.99.
Imagine not having to cringe when you hear your kid's snack bowl hit the floor, spilling the contents all over the floor. Why? Because you're the proud owner of the Kyvol Cybovac D3 Robot Vacuum Cleaner, and with the touch of a few buttons, you can have that mess cleaned up without even getting up from the couch. That can be a reality with this hard-working robot vacuum, that's equipped with a strong suction of up to 1,800Pa. It can lift embedded dirt and stains easily, getting your floors sparkling clean.
The Kyvol Cybovac D3 Vacuum Cleaner employs three different cleaning modes, which can be changed up depending on the state of your house. Just download the Kyvol App and you'll be able to schedule the vacuum for certain times, and even establish no-go areas by placing boundary strips in those parts of the house you'd rather it not venture. An impressive 2,600mAh Li-ion battery powers the vacuum, giving it a two-hour runtime–that's long enough to clean even large rooms without needing to stop and recharge. Want it to get something done outside of its usual schedule? It also works with Amazon Alexa or Google Assistant, so you can have it start cleaning without even touching your phone.
Outsource one of your household chores to a trusted robot! The Kyvol Cybovac D3 Robot Vacuum Cleaner is available now for $139.99 for a limited time.
Prices subject to change.
This article was originally published on