The Best Rock Climbing Walls To Prevent Your Kids From Climbing All Over The Furniture (Maybe)
by Bailey Cox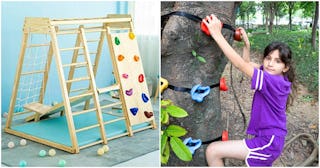 Amazon
A kid's rock climbing wall is an ideal investment when your kiddo starts to climb up anything and everything in your house. It seems like once their 2nd birthday rolls around, all your free time is spent stopping them from falling off chairs and coffee tables. Or maybe they've graduated from a playpen or play yard and are in need of something else to keep their wild imagination stimulated. Toddler-sized jungle gyms and climber slides are great to have for both indoors or outdoors. But if a playset with a simple ladder and slide just doesn't do it for them anymore, it's time to introduce them to rock climbing.
How does rock climbing help a child's development?
Rock climbing is an excellent way for young ones to build up those fine motor skills. It increases strength, flexibility, endurance, as well as teach hand, feet, and eye coordination. And when they get really good at it, it's a great way to build their self-confidence and can become a stress-relieving activity. And if we can get them away from the TV and phone screens for a couple of hours, we'll take that too!
What is the recommended climbing wall for kids?
There are really only two routes you can take when it comes to at-home rock climbing walls for kids: You can go the DIY route and customize your climbing wall or you can get a pre-built one. REI has a great post on everything you need to go about building your own wall at home, and if you go the pre-built route, oftentimes you'll find the rock climbing walls as an attachment to a larger swing set (which provides even more ways to have fun).
We've found a mixture of rock walls and climbing hold sets for both toddlers and older kids to enjoy. Some that only require a good, sturdy tree and others on toddler jungle gyms. FYI: The pre-built climbers can be an investment, which means you may be looking at spending on average $500+ for one that'll last you a while. But the bonus is you'll be able to get years of use out of these playsets with rock climbing walls, since a lot of the products we listed below work for both toddlers and older children.
Best Rock Climbing Wall for Kids
Best DIY Rock Climbing Wall Kits
Best Toddler Rock Climbing Walls
Indoor Climbing for Toddlers
Outdoor Climbing Walls for Toddlers
This article was originally published on