Rockets Of Awesome Has A New Program That Lets You Recycle Clothes And Make Money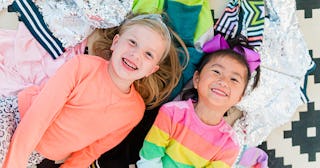 Rockets of Awesome
Let's face it: kids are picky and insanely fast-growing little humans. Buying clothes for them has always been an ordeal, but luckily, subscription boxes like Rockets of Awesome have swooped in to save the day, save valuable time and money (yas!), and help us limit those chaotic trips to the mall. This seasonal children's clothing subscription box is delivered four times a year and is filled with clothes your kids will love. If not, you can easily send your selected items back in the same box they came in. How "awesome" is that?
Honestly, you'll probably want to keep a lot of what comes because of their 'Preview and Approve' feature (also called 'Sneak Peek') that allows you to swap out what you don't like in the upcoming box. And with all these brand new clothes, by the time the year is over and after the grandparents (and let's be honest, you) went all-in during birthdays and holidays… your kiddo's closet is looking pretty full. In between your own busy schedule and keeping track of what your kids are doing, there's not much time to pencil in decluttering a closet too. And that's where Rockets of Awesome comes to the rescue once again.
Their newly launched Rockets Reverse program allows Rockets of Awesome subscribers to conveniently recycle outgrown clothes from any brand! Yep, any brand. While you're at it, you'll earn credit to shop for new clothes from Rockets of Awesome, too. You get up to 45% off the box if you keep everything + $2 per worn item returned to use toward future Shop purchases. As an avid subscription box user, I know that ease, quality, and budget are major factors in the decisions I make for my kids. A service that sends new clothes and hauls away the old ones is any parent's dream as their kiddos grow out of the jeans you bought a month ago. It sounds too good to be true, but trust me…it's the real thing!
How Does Rockets Reverse Work?
So, how exactly does the Rockets Reverse program work? If you're a subscriber, any wearable clothing between sizes 2-14 is acceptable to send back. Put your little one's pre-loved clothes in the blue "Rockets Reverse" bag that comes with your subscription box, attach the prepaid shipping label, and mail it! That's it. With each item returned, you'll also earn a $2 credit to something new at Rockets of Awesome's online Shop! The program makes it easy to reduce waste and can be your family's way of doing their part. By upcycling worn clothing, the clothes will reach secondary marketplaces that Rockets of Awesome has partnered with, and gives all these outfits a second life All while your little one gets their new, quality clothes that fit perfectly.
2020 may be over, but many of us are still stuck at home and don't want to risk shopping in-person for certain things like clothes. While online shopping is great, having one less thing to scavenge through would be more than helpful. The Rockets of Awesome subscription box will make your life a little easier and the Reverse Rockets program will take one thing off of that giant to-do list of yours. Make sure to become a subscriber to ensure your kid is ready to go for their online classes or socially distance playdates. Only subscribers will get the perk of the new Rockets Reverse program too (just in case you needed any more of an incentive). You can cancel or skip a box at any time — no strings attached, so why not make 2021 the year you tackle that closet full of outgrown clothes? Good luck Mama, you got this!
This article was originally published on