This Foldable Rowing Machine Is My Gym Replacement — And It Fits In My Small Guest Room/Office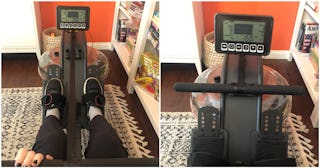 Scary Mommy
Back when the gyms closed in Los Angeles, I had a hard time getting workouts in. I'm a gym person — I don't do running, living room yoga just isn't my thing no matter how many times I've tried to get into it, and I've found that while walking my dog is amazing for my mental health, it hasn't really helped me feel physically stronger (unless she sees a squirrel and it takes all of my might to hold her 85 pounds back from lunging up a tree, then, sure). I also work from home and can be found hunched over my laptop for 8+ hours a day.
After a few months into 2020, it became clear that gyms weren't re-opening any time soon, and even if they were, I wouldn't feel totally safe unless vaccines were being widely distributed in my city. In the meantime, I started feeling groggy all the time, more stressed out, and my back killed. I needed to figure out a solution that wouldn't break the bank, and wouldn't take up a lot of space. An elliptical was out of the question due to lack of room, and as much as I wanted the Peloton (*drool*), it was too expensive to justify.
One type of workout equipment I always loved when I was at the gym was the rower. It burned calories, yes, but it also helped my back grow stronger and was fun to use. I figured buying one wasn't an option, since it seemed like the only kind of machine you get if you're #fancy. But doing a quick search on Amazon, I saw that you could get a really high-quality rower for way under $500. And after doing research for a few days, I landed on the MaxKare water rowing machine that has the ability to fold up. It was compact, and when not in use, easily folds up like a Murphy bed. For me, the $399 was worth it.
Reader, I ordered it! And in combination with my daily walks with Sasha, I've been feeling like Gina 2.0. My back doesn't feel like petrified wood anymore, and there's a tone-age situation happening with my shoulders and upper back. It's also super easy to get 10-15 minutes in during my lunch break or after dinner when I'm feeling sleepy. The LCD monitor indicates how far you've rowed, how many calories you've burned, pulse rate, total strokes, and the amount of time it's been since you've started. It's nothing fancy, but it's exactly what I need.
This article was originally published on