12 Ways To Start Saving The Planet In Your Own Home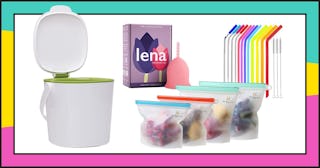 If you're not reducing, recycling, and reusing yet, you might want to open a newspaper (but don't you dare throw it in the trash) and read through all the articles about how the planet is basically on fire and it's up to us to be the change we want to see in the environment. If that feels too overwhelming, we've got good news, Mama. Think globally and act locally – like right in your own home. Here are some environmentally friendly, reusable products to replace your disposable ones and just like that – you're an eco-conscious hero.
Not only are more environmentally friendly than all those disposable cotton rounds you've been pulling out of those plastic sleeves on a daily basis, but they won't disintegrate in your hands when you saturate them with liquid and leave bits of fluff all over your face. Win-win. (Quick tip — get 2 sets so you'll have enough clean ones to use while the others are in the wash.)
These reusable silicone bags are food-grade material, leak proof, heat and cold resistant and safe to use in microwave, oven, dishwasher, refrigerator and freezer. If you're looking to slowly integrate zero waste concepts into your home, these are a great way to start.
This is the last straw…..that you'll have to buy, because these eco friendly, reusable stainless steel and silicone straws are rust and scratch proof, dishwasher safe, and BPA free. Plus, they come with cleaning brushes!
What sorcery is this? The Vejibag keeps vegetables crisper and fresh for longer without the use of plastic. In fact, it's ethically made in the U.S. from sustainable, organic cotton. We think this is one of the best things on Amazon, with one reviewer marveling, "I am in love with these bags. Bought a couple to test and should have bought many more. My produce lasts incredibly long! I went from wilted and beginning to rot lettuce around 2 days in plastic, to 7 days with these bags. Genius!"
If your little kiddos plow through disposable pouches of food the way ours do, you'll thank the applesauce gods for these reusable ones. They are easy to fill and clean, and are made of strong, eco-friendly materials that are BPA, PVC, lead and phthalate free.
Get ready to take the plunge into reusability, Mama, with a menstrual cup. If the idea of a reusable menstrual cup makes you a little squeamish, it's time to rethink it, because almost 6K 5-star reviewers on Amazon say they won't go back to using pads and tampons. It's odorless, sensation free, and lasts up to 12 hours. Time to go with the flow. Period.
Keep this 7 x 7 x 7 inch compost bin on your countertop to collect food scraps between several meals and make one trip to the outdoor composter to save time and energy.
You don't have to ditch your Keurig addiction to be a good environmental citizen. This reusable filter is designed to be used in all Keurig home coffee makers. Just use your favorite ground coffee, fill the filter to one of the two fill lines, then pop it into your Keurig Coffee maker.
Throw these organic, reusable wool dryer balls in with your wet laundry instead of those toxic dryer sheets you're using to speed up drying time and soften your clothes. Literally amaze-balls. They're perfect for babies and sensitive-skinned adults. One reviewer on Amazon raved, "Amazing! We have cats and dogs and the hair never goes away. Not only no hair on clothes, but static free and smelling clean!"
These reusable silicone stretch lids can be used to cover left over food right in the bowls, pots, containers, mugs, cups, cans, or jars! You can even use them to cover your half-cut melon or watermelon. Saving the environment while doing less cleaning up — we're totally here for that.
Bring these along to the grocery store to use for produce instead of the flimsy plastic bags on a roll that require you to lick your fingertips to actually get open. (#gross) This set includes 9 mesh bags, made up of 2 Small 12 x 8 inch, 5 medium or large 12 x 14 inch, and 2 extra large 12 x 17 inch to fit all kinds of items. They are double-stitched and can each hold up to 11 pounds.
Our mom experts only recommend picks they really love. We may earn a commission on purchases made through links from our site, but if we love it, we know you'll love it. And we Scary Mommies gotta stick together.
This article was originally published on