13 Scary Movies Guaranteed To Spook Your Entire Family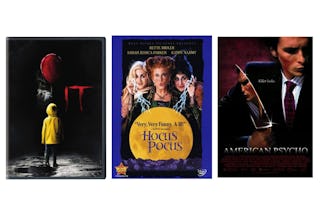 When you become a mama, Halloween takes a turn for the cutesy. You decorate your living space with things like smiling pumpkins and friendly ghosts to keep the holiday light-hearted and silly. That is, until your child's old enough to enjoy a good spooking! And what better way to get the whole family in the spirit than by marathoning the best scary movies all freaking month long?
You don't have to give up watching horror flicks until your little one's of age to stomach them, Ma. It's more fun to watch these films late at night, all alone in the pitch blackness anyway, right? Below we've rounded up a list of 13 scary movies to add to your bucket list this season — both family-friendly and perfect for parents who love a good spook. Just fire up the jack-o-lantern, pop some kettle corn, and prepare for a scare.
Nothing says Halloween quite like a band of witches that suck the life out of little children. The Sanderson sisters are frightening, fabulous, and make one hell of a vocal group. If you're looking for a family-friendly spook, we have no doubt Hocus Pocus will leave your little coven completely spellbound.
RELATED: This Is The Ultimate Halloween Idea Guide Of 2019
Stephen King's nightmarish creation is sinister, feeds off your greatest fears, and lives in the gutters. Clearly, Pennywise is no ordinary circus clown. Ergo, if your little one is afraid of powdered faces and big red noses, don't press play until after they've gone to sleep.
Chloe Grace Moretz is phenomenal as Stephen King's Carrie. The classic tale is part paranormal and completely horrific. It'll either teach your teen to stand up to bullies or, you know, destroy them. Maybe you should hold off on showing them this one until after they've graduated.
Friends or frenemies? Unfriended brings the dark side of social media to the big screen, and you'll want to log off as soon as it's over. Remember, what's posted online, stays online, and the memories can come back to haunt you.
Insidious is always a solid choice for a scary movie night, and if you're OK having nightmares about your child becoming possessed by demons, even better. If nothing else, this movie will teach you not to let your child go lurking in creaky old attics, and to never, ever, let them climb ladders unsupervised. Oh, and prepare for a lot of jump scares. They're lurking around every corner.
Stephen King's The Shining is an epic ghost story. Stanley Kubrick perfectly packages a little ESP, a lot of blood, and an ax rampage into his adaptation of the 1977 novel. Even though the King wasn't impressed, this 1980s film was a hit at the box office. If you're looking for a scare, you've found one.
Press play at your own risk. The Ring follows investigative reporter Rachel Keller (Naomi Watts) as she tries to uncover the truth behind the demise of four teenagers. Each had watched a short videotape prior to their untimely deaths, and when Keller becomes its next viewer, she has seven days to stop this fatal cycle.
Do you like scary movies? This classic '90s thriller completely redefined the horror game and gave the genre a mascot — the white mask. This scary movie serves as a reminder not to answer the phone in an empty house. You never know who'll be on the other line.
American Psycho is not for the faint of heart, nor for anyone younger than 18, so we'd highly advise watching this flick when the kids are out of earshot, or, better yet, out of the house. Christian Bale is downright terrifying as he portrays Patrick Bateman, a Wall Street success obsessed with all things murder, gore, and dismembering his victims. We won't judge you for borrowing your child's night light after watching this Mary Harron horror.
Rated PG-13, Addams Family Values is the perfect pick for a scary movie night with the fam. Even though this family of dark-humored misfits might be creepy, they also have a quirky-kookiness to them that offsets the scare. Just cover your little one's eyes when Wednesday and Pugsley almost off their little brother. We wouldn't want them picking up on those bad habits.
Say his name three times and you're in for a scare — or just a visit from a very dirty Michael Keaton. Beetlejuice is a grimy ghost summoned to help a dearly departed couple rid their house of its new residents. Though his scare tactics are a little unorthodox, and his personality highly perverted, this film is a PG classic both kids and parents can enjoy around Halloween.
What's more gut-wrenching than "Hannibal-The-Cannibal" Lecter? Needing him to help you catch another serial killer on the loose. Jodi Foster and Anthony Hopkins make for one mind-blowing duo in The Silence of the Lambs. Foster will restore your faith in heroes, and Hopkins will remind you why you never let your children out of your sight.
Freddy Kruger isn't the Boogie Man. Freddie Kruger is the Boogie Man's worst nightmare. This '80s slasher film will have you seeing stripes and fingers made of metal. The cinematic effects might look corny this day and age, but just because it's overtly fake, doesn't mean the storyline is any less frightening.
Although we only recommend picks we really love, we may earn a commission on purchases made through links from our site.
This article was originally published on