Behold: The Most Popular And Loved Amazon Prime Day Deals This Year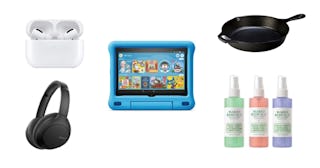 Amazon
Can you believe it's STILL Prime Day? It's true — Amazon has defied the typical 24-hour day and declared June 21 and June 22 as 2021's Prime Day. Hope you've been pacing yourself, Mama, because we've got so many more product picks that you're going to love. How do we know? Because we've got the inside scoop on what moms are ACTUALLY BUYING on Amazon Prime Day 2021. Everything from Instant Pots (duh), to makeup, to baby gear, here are all the most popular Prime Day purchases this year. Wake up and smell the Amazon (and hopefully the coffee, ladies — don't forget to fuel up during all the excitement).
Still Prime Day shopping? We've also rounded up the best deals in kitchen, tech, toys, fashion, beauty, baby, and the best deals overall!
Popular Home & Kitchen Deals:
Popular Tech Deals:
Popular Beauty Deals:
Popular Toy Deals:
Like what you see? Shop more deals for Amazon Prime Day, the holidays, and beyond.