These Shopping Cart Covers Keep Baby Comfy & Clean At The Grocery Store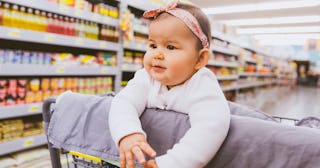 Getty Images/Tuan Tran
If you plan on taking Baby to the grocery store, you're gonna need a shopping cart cover. It's just one of those kind of unexpected baby gear items you'll need to have. One of the best things about the baby stage of life is that you can bring them just about anywhere and they're happy to sit and watch you do your thing. With toddlers, you can't do that—they need to be moving at all times, and you need them to so that they'll nap later on. But if you're planning on taking your baby out with you on shopping trips, be it to the grocery store or good old Target, you'll want to invest in a shopping cart cover.
Let's face it—there are plenty of issues with the metal, jail-like, slated seats that are designed for your child to sit in in the standard shopping cart. Would you want to sit in there and be wheeled around the grocery store? We hope you answered no—and your little one would probably agree if she could. That's where baby cart covers come in handy—they wrap around the front area of where your baby's meant to sit in the standard shopping cart to make it more comfortable, clean and safe.
Luckily, more and more brands are hopping on the grocery cart cover bandwagon and creating really user-friendly shopping cart covers that can even be used for high chairs, which comes in handy when you're out to dinner and don't want your little one gnawing on the side of the wooden seat. Here are some of the best shopping cart covers to keep your child safe and happy on the go.
Best Baby Shopping Cart Covers
This article was originally published on