A Mini Skull-Shaped Waffle Maker Exists Solely To Make You Spooky Breakfast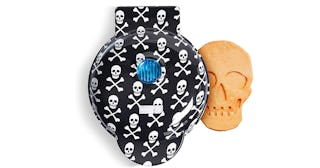 Amazon
October may be over halfway done, but that doesn't mean spooky season is over! We've still got a couple weeks left until Halloween, and since many of us are likely not going trick-or-treating (and certainly not going to crowded parties to show off our costumes), we've been celebrating in different ways. For one, we got ourselves this pumpkin-shaped waffle maker which makes adorbs little waffles in the shape of pumpkins. We've been using it all season long to really get into the spirit to go along with our Halloween decorations. And now? There's an even spookier option: A mini skull-shaped waffle maker.
And it doesn't have to solely be used in October, either. Heck, you can make skull-shaped waffles whenever you want, because maybe you're just eternally dark and spooky like that. Either way, the waffle maker is on sale right now (17% off), and it's so small, you can easily tuck it away in your kitchen and bust it out for the next perfect occasion. Aside from making skull waffles, you can use it for eggs, hash browns, and paninis, and more. This little skull is quite versatile.
I mean, look at my adorably spooky breakfast I made the other day! (I know, I'm not a professional photographer, please don't @ me.)
For other fun kitchen goodies and gadgets, check out all our home & kitchen recommendations here!