Save 68 Percent On This Doc-Recommended App For Sleep
by Scary Mommy Team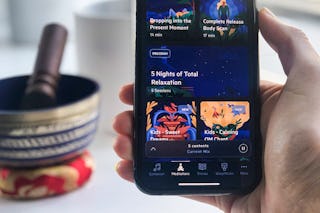 StackCommerce
Between doomscrolling, Zoom-schooling, and the usual omg there's more laundry, how is there always so much laundry? situation, there are a lot of reasons to be getting less sleep these days. And you're not the only one: all that extra screen time is problematic for your kids' sleep patterns too. Help everyone in the family with this Relax Melodies Meditation App that comes with a lifetime subscription for better sleep forever.
The doctor-recommended app combines stories, meditations, sounds, and music to achieve that eight hours of sleep per night. It's earned a 4.8-star rating in the App Store, which was reported by Business Insider as being "The most positively reviewed app in the history of the Apple App Store." If that doesn't speak volumes, try it for yourself. The Relax Melodies Meditation App uses expert-approved techniques to overcome conditions like insomnia, tinnitus, night-time anxiety, and can even lower your daytime stress levels.
Most Americans are only getting an average of 6.8 hours of sleep per night, but it can be difficult to fall asleep even if you establish a solid pre-bedtime routine and consistently hit the sheets at the same time each night. A little winddown, similar to reading your kids a bedtime story, never hurt anyone. Relax Melodies lets you pick from a library of guided soundtracks that use brainwaves, sound breathing, isochronic tones, and healing music to foster sweet dreams.
Once you get a taste of a restful night of sleep, you'll never look back— and you won't have to because, for a limited time, you can get a lifetime subscription to the Relax Melodies Meditation App for a one-time payment of $79.99, 68 percent off the usual price.
Prices subject to change.
This article was originally published on