A Gift Guide To Help Parents Step Up Their Toy-Buying Game ASAP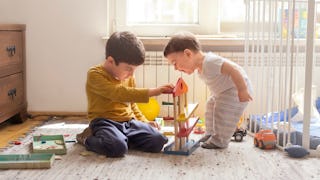 Anna Pekunova / Getty Images
The holidays are all about family, togetherness, and – duh – gifts! I personally loathe when someone gifts my son with a mindless toy that will just add to the insane amount of clutter. I would rather a 'smart toy' that will exercise his mind, or something that can be built and then put on display directly after.
RELATED: Alexa, What Are The Best Robot Toys?
Jenn Choi, who writes about learning, productivity, and play, runs a blog called toysaretools.com says, "Instead of focusing all their attention on machines that speak, early learners actually need to practice so-called joint attention skills," she says. "These skills are going to directly impact their ability to learn in a classroom, to speak up in a meeting, to make sense of conflicting thoughts and points of view."
Choi also discusses on her blog that "good" educational toys need to be able to be used for one of these things:
– Icebreakers in social settings
– Make-believe play – Memory boosters – Executive functioning (a set of processes that all have to do with managing oneself and one's resources in order to achieve a goal) – Artistic expression – Practicing scientific thinking
Sure, "smart toys" can mean tech-advanced, but I like to categorize them as "toys that will make you smart" too. There are a ton of options now with STEM, robotics, computers. Heck, a lot of these toys will give us as moms a lesson, too.
So here we go, here are the best smart toys to give your kiddo for the holidays:
BEST FOR THE FUTURE MENSA APPLICANT
Artie 3000 is a coding robot that lets kids design code, and he draws the pictures! (Is there a robot where moms say "clean your room!" and kids automatically listen?) There are pre-programmed designs for beginners and more advanced coders can start from scratch. Designed for mini-coders aged seven and up, this little guy is an Honorary Mensa Member, so he'll be your kid's smartest friend. (Right?)
BEST FOR THE MOTHER WHO ISN'T READY TO INTRODUCE HER KID(S) TO SMART PHONES
Relay is a screen-free smarter phone that's basically a walkie-talkie with nationwide coverage and GPS tracking. (Where was this thing when I was dating my ex?) There's a companion app that lets you manage all the Relays on your account, and see where they are by GPS. It works over 4G LTE and WiFi, so it has unlimited range and works everywhere a phone does. If you're not ready for your kid to have a smart phone yet, a Relay is a great solution.
BEST FOR THE LEGO LOVER
Moving Creations walks junior engineers through 9 build and 18 STEM experiments. It includes "Think Bigger" challenges to deepen their understanding of the scientific method. Let your kid explore the science of pneumatic (air) and hydraulics (water), while you explore the dictionary to make sure you understand what s/he's playing with.
BEST FOR THE MUSIC LOVER
Jooki is a music player for kids with a ton of other functions. It can stream music and stories from your phone or Spotify premium, play audiofiles, record and playback messages, and it works over wifi and bluetooth. Parents can also add their own content, so basically just get this for your kid but then steal it for your own use.
BEST FOR THE GIRL WHO GONNA RUN THE WORLD
Geared towards girls (who run the world?!) Boolean Box is a built-it-yourself computer and electronics kit. It contains a computer called a Raspberry Pi, a mouse and keyboard, and all necessary wires, lights, buttons, etc. so girls can bring their coding projects to life. For ages eight and up, girls (and fine, boys too!) can make art, games, music, recreate Pac Man and so much more.
BEST FOR THE PHYSICS TEACHER IN ALL OF US
Kids can build their own gumball machines all while learning physics lessons in the process. As gumballs roll down the track, they perform cool stunts and tricks, such as pulley lift, pendulum, funnel, trampline, and more. Each segment of the track teaches a different lesson in mechanical physics, so kids will never get bored. Plus, at the end of it all, we get to enjoy the sweet treat!
BEST FOR THE FUTURE ASTRONAUT
How about a robot that defies gravity? This four-legged bot uses a system of suction cups and pumps to crawl along smooth, vertical surfaces. Your kid(s) can build four other models too! This hands-on construction kit brings engineering and physics to life as it demonstrates the power of air pressure at work. Again, another toy where maybe it will teach you a thing or two.
BEST FOR THE LITTLE ONE WHO'S ALL ABOUT THE BOOKS
ABC mouse is a digital learning program for kids aged 2 – 8 that can accelerate the development of early literacy and math skills. It helps ensure kindergarten readines and 3rd grade readiness, which are two important academic milestones (who knew?). Created and designed and by teachers and education experts, ABCmouse is a trusted learning resource that's used in more than 70,000 classrooms and in nearly half of all U.S. public libraries. That's enough for me to trust it!
BEST FOR THE OLDER KID WHO IS DRIVING AND DOING ALL THE TEENAGE THINGS
Probably best for your older kids, this is the world's most durable compact key holder. It holds up to 14 keys and includes a pocket clip and a bottle opener (you know, for the soda pop). KeySmart also comes with a Tile so they'll never lose keys again! P.S. You can also track them this way.
Although we only recommend picks we really love, we may earn a commission on purchases made through links from our site.
This article was originally published on