Score A Goal With These Soccer Gifts For Players And Fans Of All Ages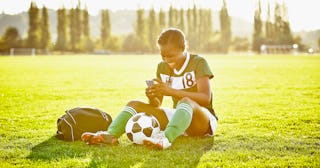 Getty Images/Thomas Barwick
With the rising popularity of soccer in the United States it is no wonder you are in search of the best soccer gift ideas this year. Regardless if you are shopping for a daughter, son, partner or possibly even grandpa, we've got you covered with the best gifts for soccer lovers. We know shopping for the best gifts for soccer players isn't as simple as it sounds. Heck you might be a runner, a yogi, or a non athlete all together and know nothing about soccer. Don't worry, we can help! So go ahead and confidently delete that boring old regulation soccer ball from your shopping cart (you're about to do much better than that) and let's fulfill their wildest soccer gift idea dreams.
Soccer is awesome! And as moms we are totally behind the rise in popularity of soccer for all ages and genders. Thanks to the US Women's National Team, soccer is becoming a major league sport that is not solely dominated by men — woohoo! Quite frankly, it makes us moms proud that our sons and daughters are seeing strong women play at exceptional levels, breaking winning records and demanding equal pay for their play. Soccer is one of the only sports where great female players like Alex Morgan and Abby Wambach are inspiring soccer loving kids to get on the field just as much as their male counterparts (hello David Beckham). We also can't deny that hearing the stories of little boys wanting to grow up to be like Megan Rapinoe doesn't warm our soccer mom hearts. But soccer isn't loved simply for its part in social activism and breaking glass ceilings — although it is a great bonus for many of us.
Soccer is so widely loved that it is basically an international language of its own. Travel to any other country in the world and you will see teams of kids playing pick up soccer and animated conversations in cafes about the most recent game. With a simple soccer gift, you can give the gift of participating in this incredible world culture that brings people together instead of pulling them apart. Which is what this time of year in particular is about anyway, right?
Soccer is an incredible sport that's loved and played by men and women, boys and girls. It is a sport that brings people together in a time when the world seems so broken apart. But the best thing about soccer is that it is just so much darn fun! So this year blow your soccer lover's mind with a fantastic soccer gift idea this year. The best gift for soccer players, fans, and kids will inspire any soccer lover to train hard, laugh with gusto, compete with vigor, and break ceilings. And we've got all of those gifts for soccer lovers plus soccer gifts for toddlers to get them started loving the sport early, right here for you to choose from.
Gifts For Soccer Players
Gifts For Soccer Fans
Soccer Gifts For Babies, Toddlers, And Kids
We know you need more than just great gift ideas for soccer lovers to wrap up your shopping this year. Let us help, we have tons of great gift ideas for everyone on you list!