Shut Down Telemarketers And Spam Texts With This Genius App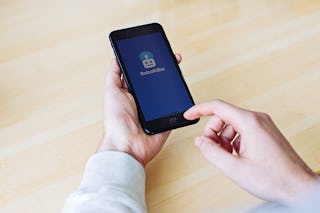 StackCommerce
Surviving during a pandemic—much less parenting in one—has most of us down to our last nerve. Juggling working from home, supervising online school, keeping our loved ones healthy and safe, and trying to fit time in for the occasional self-care moment has moms everywhere stretched thin. So one thing we absolutely do not have time for? Those obnoxious phone scams and telemarketers that terrorize our phones. They've even seemed to have infiltrated our text messages lately!
Since we don't have any bandwidth left to deal with these pesky calls and texts, let RoboKiller Spam Call and Text Blocker spare you that telemarketer-induced meltdown. It ensures that 99% of your unwanted calls and text messages are blocked. A three-year subscription to this handy app can help protect your phone (and your sanity!) for just $59.99.
Let RoboKiller be your very own knight in shining armor, guarding your phone from those annoying calls and texts that always seem to come in at the most inopportune times. It automatically blocks over 1.1 million spam numbers, thanks to its predictive call-blocking algorithm that intercepts the call in less than .01 seconds, making sure the calls that get through are from people you actually know. You can even choose from a library of answer bots to answer those spam calls, confusing the telemarketers and giving you the last laugh in the process.
How many times have you answered a call from your similar area code, assuming it was the pediatrician or another important call? Robokiller also helps shut down this phenomenon, called neighbor spoofing, letting you know the difference between spammers and your family and friends once and for all. And, SMS spam protection makes sure scam text messages don't get through from those notorious spammers, blocking up to 95% of them.
This handy app has been featured on NBC, Engadget, Wires, Ars Technica and News Tonight. It has already been a hit with users, as it has scored an impressive 4.5 out of 5 stars on Apple Store and 4 out of 5 stars on Google Play.
Never angrily throw your phone again after an annoying spam call. Protect yourself from spammers and telemarketers with a three-year subscription to RoboKiller Spam Call and Text Blocker for just $59.99 today.
Prices subject to change.
This article was originally published on