A Spiked Seltzer Calendar Exists 'Cuz Why Should Kids Have All The Fun
by Sarah Bregel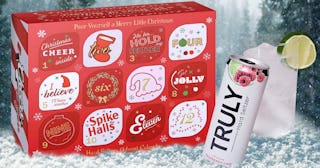 Give Them Beer
Spiked seltzers are having a moment so why not make them part of your holiday celebrating?
With the holidays fast approaching, what better way to ring them in than with an advent calendar filled with booze? Well, look no further because a Spiked Seltzer advent calendar from Give Them Beer is officially a thing. There is literally no better gift for your besties (or even yourself) to celebrate the 12 days of Christmas.
And yes, it has White Claw in it.
I mean, hard seltzer and Christmas. Why didn't anyone think of this before? The two basically go hand-in-hand. It's like Santa Claus and reindeer. Holiday parties and mistletoe. Sugar cookies and red wine. A truly winning combination.
How cute is the packaging? Don't say Santa doesn't care about you now that you're a grown-up. We would like one of these the moment the first snowflake hits.
Behind each of the calendar's 12 doors is one of the best-rated hard seltzers of 2019, which of course includes the much-loved brand, White Claw. It's totally festive and will have you feeling merry and bright in no time. Plus, at $59 it makes an awesome early Christmas present to give to everyone you love (who loves hard seltzer) or to keep on hand for yourself. Because you deserve nice things, too.
If hard seltzer is not really your thing, or you're shopping for a hardcore wine fan, there's also an advent full o' wine. They aren't tiny 1-glass pours either. These are entire half-bottles. Oh, Santa baby.
CAN YOU FEEL THE CHRISTMAS JOY YET?
And for beer lovers? Yup. There's an advent for them, too. It's filled with 12 expertly-picked craft beers, one for the whole 12 days of Christmas.
Hallelujah!
These calendars will be ready to ship in mid-November so get your shopping done early. All of the advents come with a cute customizable card, too, so if the recipient wasn't already warm and fuzzy, you know, from the bushel of alcohol you just gifted them, you can tug at their heart strings a bit more.
Either way, it's hard not to appreciate a drinkable gift like this, even for the Scroogiest of folks. The holidays can be a little stressful with all the shopping, planning, cooking, and decorating. A daily sampling of beer, wine, or the hard stuff takes the edge off just a tiny bit.
The holidays are definitely looking very warm this year.
This article was originally published on