This Gigantic Inflatable Island Fits 7 Adults, Guarantees The Most Epic Summer Of All Time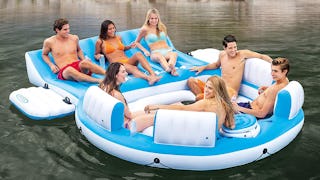 Amazon
That's it. This past year has been too weird—I'm moving to a remote island. And by "remote island" I mean the Intex Splash 'N Chill Inflatable Relaxation Island. There isn't a word in that title that isn't incredibly appealing, right? So, if you're with me, here's how to grab a totally private remote floating island for yourself.
The Intex Splash 'N Chill inflatable island comes equipped with everything you could possibly need while chilling out on the ocean or lake. There's a cooler nestled between two of the four seats positioned around a center watering hole. There are also three chaise lounge chairs attached to the circular float, as well as two landing zones to hang onto while in the water.
And, of course, there are cupholders galore. So…I suppose guests are welcome to this remote island. And okay. Intex is right. The more the merrier.
"Very happy with this purchase," one of the over 600 five-star reviewers wrote. "The thing is huge!… I like that this came with an anchor bag. We needed it to help keep it in place with the wind on the lake."
Another five-star customer wrote, "Where to begin….we splashed, we chilled, we took a charcuterie board into the middle of Lake Anna…The lakefront houses surrounding us were full of people who were straight jelly at the amount of laughs being had during our splash and chill and meat and cheese sesh. Haters will say it's fake. To those haters we will tell them you can splash but YOU CAN'T CHILL as our captain literally kicks them overboard." I am also straight jelly just reading this review.
Bring on the splash. Bring on the chill. And definitely bring on the Splash 'N Chill (with a charcuterie board in tow—perhaps pre-packed in the build-in cooler). Summer will never be the same.