Star Wars And Marvel Fans Need Disney+. Like, Right Now.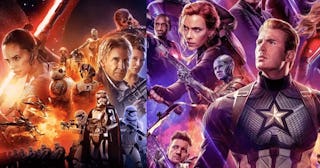 Disney
Two words: The. Mandalorian. If you're an obsessive Star Wars fan (like me), you already know what this is. If you don't, you will soon. It's an incredible-looking all-new original Star Wars spinoff, only available on the new Disney+ streaming service.
Disney+ launches TODAY (November 12) and it's insane. Pretty much any Disney/Marvel/Pixar/National Geographic movie or show you can think of, all in one app. The classic kids' stuff is all there, and I'll get to that in a minute, but for me, it's all about Star Wars and Marvel.
From Luke and Leia to Rey and Finn, and everything in between. And did I mention The Mandalorian?? A new spinoff about a Boba-Fett-type bounty hunter, set five years after Return of the Jedi? I can't even. Plus, over 10 years of record-breaking, ground-breaking Marvel movies? All the Avengers, the Guardians of the Galaxy, Black Panther — and all-new series like Falcon and Winter Soldier, and WandaVision! Seriously, sometimes I barely have time to shower, but I am gonna MAKE time for this.
Disney+ is available right now for $6.99/month or $69.99 /month, and for less than a pumpkin spice latte a month (yes, I'm basic like that), I'm in.
So, I'm clearly shook about all the Star Wars/Marvel stuff, but there's also a ton more to Disney+. Moana, Frozen, Cinderella, Snow White, Mickey, Minnie, Toy Story, Cars, Nemo, Monsters Inc., The Lion King, The Incredibles, Coco — the list is endless. There are over 7,500 episodes, over 500 movies, and over 35 new originals. There's a super-cute new Christmas movie with Anna Kendrick, and an all-new High School Musical series. There are literally thousands of options for every person in the family.
Get Disney+ for $6.99/month or $69.99/year »
Every episode and movie is downloadable across 10 devices, and you can stream different content on 4 different devices simultaneously. Honestly, I'm not sure I'll need any other entertainment app. This is an absolute game-changer.
Just in case, there's other stuff you still want to watch, there's also a bundle of Disney+, Hulu (with ads), and ESPN+ for $12.99/month. Always fun to mix in some Handmaid's Tale if the Disney princesses are feeling a little too cheery ;).
So go check it out. There are hundreds, if not thousands, of options for every member of the family. But especially Star Wars and Marvel. Oh, and did I mention The Mandalorian?
This article was originally published on