The Best Stocking Stuffers For Teens That They'll Love in Their Own Moody Way
by Laura Hennigan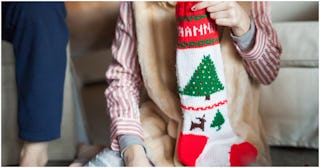 Getty Images/Mint Images
The best stocking stuffers for teens are items that they 1) won't roll their eyes at, and 2) might actually cause them to crack a (brief) smile. Holiday shopping for the over 13/under 19 set can be a challenge. It's hard to find gifts that are fun, affordable, and won't end up shoved under the dark recesses of their beds, never to be seen again.
If you're stumped on stocking stuffers, check out our top picks for toddlers, kids, moms, under-$10 trinkets on Amazon, and NSFW prank gifts.
Thankfully, the internet powers know that while teens can be picky, they also quietly appreciate having a stocking chock-full of goodies to open. While most have moved past the simple joys of toddler tchotchkes from the toy aisle, there are still plenty of options that might garner a mumbled "thank you," or maybe even a quick side hug. And since none of us actually know what is currently considered trendy, there are helpful product ratings and reviews to help guide our mature, out-of-touch brains.
We've rounded up the best options to fill any teen's stocking this year, no matter how disinterested they are in family time under the tree. And while we can't make them appreciate the most wonderful time of the year, we can at least help you look like a cool mom, not a regular mom.
Best Stocking Stuffers For Teens
Best Stocking Stuffers For Teen Boys
Best Stocking Stuffers For Teen Girls