31 Bitchin' Gifts True 'Stranger Things' Fans Will Appreciate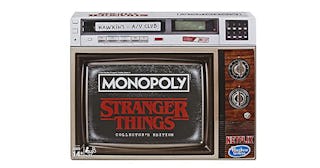 Amazon
The Netflix Original series Stranger Things has a pretty huge and intense fanbase, so they also have some really great Stranger Things gifts and merch available. If you're looking for the perfect holiday gift for a friend or family member who loves the show, there are some amazing show-themed ideas out there. Actually, there are so many that it can be a bit overwhelming: so we looked through everything and narrowed it down for you!
Whether you're looking for Stranger Things room decor, accessories, clothing, collectible figurines, games, or books, there's definitely something for everyone. The show is set in the '80s, so all of the merchandise has a pretty nostalgic vibe to it, which is cool. Some of the items are a subtle nod to the show, like a Stranger Things T-shirt that just says "Hawkins" for Hawkins, Indiana (where the show is set). Some of the other items are much more obviously for a big fan, like the collectible Funko Pop figures or the book filled with behind-the-scenes info.
There's also something for every price range: think a BMX bike inspired by the bikes in the show for a few hundred dollars, or a pair of adorable socks for under $10. Basically, we've thought of everything, and any Stranger Things fan would appreciate any of these gifts.
Best Stranger Things Merch
Best Stranger Things Room Decor
Best Stranger Things Accessories
Best Stranger Things Christmas