Target Outdid Itself With This Halloween's Cat And Jack Collection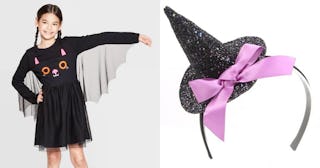 Target
Target's Cat and Jack Halloween collection is literally everything
It never comes as a shock to find out that Target has a bunch of things we need in our carts (and lives) immediately, but this time, they're really gone above and beyond the call of duty. Their new Cat and Jack Halloween collection is basically the cutest thing we've seen since fall started in late August (thanks, Starbucks) and the best part? Every adorable item is under $25.
Because Target loves us and wants us to be happy.
First up is this insanely adorable bat dress with tulle "wings." Like so many of their other offerings in this collection, this cuteness could be a costume as well as an outfit — with the right accessories, of course.
Speaking of accessories, what would that dress (or any of these crazy-cute costume-y outfits) be without the proper headwear? This glittery witch's hat headband is absolutely everything.
But if your little one prefers a graphic tee and jeans over a dress, the collection has you totally covered, and they're all between $6-9. Can't beat it.
Like, totally covered. This sequined skeleton shirt is way too stylish to only be worn in October, which works out, because candy is great all year.
Or how about this spiderweb hoodie with matching sweatpants? Do they make this in grown-lady sizes? Looks like the perfect crisp, fall weather casual wear to me.
Speaking of chilly fall nights, how about this scary-cute (literal) skull cap? It's yours for just $9.99.
Of course, Target didn't leave out the littler revelers. This $12.99 skeleton pullover hoodie is sure to delight with its cute spiders and webs hiding in the bones.
And of course, there are graphic tee options for this age group too. We're also big fans of those monster eye jogger pants that come with it. That's right — the whole outfit for only $12.99.
Want to send your preschooler off to their class Halloween party in style? This orange black cat-adorned dress is just the spooky ticket.
Or if your kiddo is more into tulle and an all-black look, this sweet skeleton dress is exactly right.
With the right "caticorn" handbag of course.
You can check out the whole collection, and yes, there's stuff for adults too. Happy Halloween shopping!
This article was originally published on