Target's Holiday Family PJ's Are Here And Their Marketing Gets It Right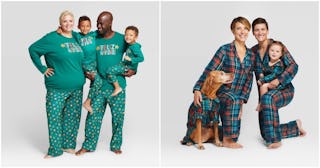 Target
Target has everyone covered with these adorable holiday pajamas
It's that time of year where many of us will be snuggled in our homes away from the freezing cold winter temps. If your family is anything like mine, that means all-day pajamas and movie marathon weekends (after activities, sports practices, school functions, and birthday parties, of course). Target definitely has everyone covered this year (literally) with their new collection of family pajamas that are every bit as adorable as they are inclusive.
The collection is made up of holiday patterns in buffalo plaid, tartan, bears, llamas, and elves (oh my!), but what really catches your eye is that the folks at Target nailed including every type of family and body in their advertising. The retail giant features families of all colors, shapes, sizes, and orientations. Therefore, no matter who a person is or what they look like, they can find themselves represented.
"You'll love that the collection of family holiday pajamas includes pieces for adults, kids, toddlers, babies and even pets so the entire family can match for fun holiday photos or snuggles on the couch for a holiday movie marathon," Target says on their website of the collection. "At Target, we believe in helping families discover the joy in everyday life — and that includes bedtime. To make sure the items in our Family Pajamas Collection were fit for all families, they've been tested and given the stamp of approval by real Target employees and their families."
Sizes come in XS to XXL and they also sell infant jammies that match some of the collections. And you can't leave the fur-babies out of the equation! Target's got them covered with hilarious and paws-itivly adorable pullover pajamas that "give your pet some seasonal flair."
No matter the holiday, Target has something for shoppers. They released their Hyde and EEK Boutique collection earlier this year with Halloween skull succulent holders, spooky pumpkin decor, and of course Halloween-themed pajama sets for the big and little kids at heart. Hey, if we're gonna celebrate the holidays, we may as well dress for them, too.
The holiday family collection is selling in stores and online now and the prices range from $10-25, so they're affordable even if you've got a few kids and pets to outfit. Of course, if you are the proud owner of tweens or teens they may fight you on being included in a matching pajama photo (ask me how I know), but just gently remind them that if they'd like to still be included on Santa's "nice" list, they'll shut up and do what you say.
Thanks Target, for another incredibly cute collection we simply won't be able to pass up this holiday season.
This article was originally published on