Your Kids Will Flip For Target's Sparkly Llama Cookie House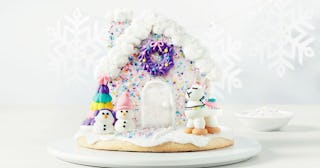 Target
Building gingerbread houses is actually no fun, so Target has the perfect alternative
Here's a holiday hot take for you: Building gingerbread houses actually sucks. Getting 16 pieces of cookie to stand up and stick together and stay upright under loads of candy and icing requires a literal engineering degree, which is the opposite of the holiday fun most people are looking for when they set out to create a decorative, edible home. Luckily, Target has the perfect alternative.
Introducing the cookie house scene. That's right — this isn't a whole house. It's a single scene that suggests the existence of a house. It's comprised of a round cookie base and a house-shaped cookie that you can decorate and stand up, giving the appearance of an entire cookie house, but without having to assemble a load-bearing structure out of baked goods. Fam, this is genius.
Oh, and it gets better. This cookie house scene is llama-themed and sparkly, which means your decorating can be as extra as you are. The kit comes with a vibrant, multi-colored wreath and Christmas tree, which look to be a nod to the colorful textiles of Peru, where llamas come from. There's, of course, a tiny candy llama and a couple of matching snowmen to adorn your home's front yard, and there's some very sparkly decorating sugar and sprinkles to make this house really shine. In short, your kids are gonna go crazy for decorating this.
In short, Target saved the day, because your kids are gonna love this. And so will you, because all you have to do to assemble it is stand the house piece upright, supported by an included wedge. There's no other pieces, no gluey icing to try to get to hold everything together. Just decorate your house and yard, stand one piece upright, and boom. Cookie house, minus the hours of labor, frustration, and heartbreak that used to come with it.
As of publishing time, these adorable little houses seem to be selling well, because they're not available to ship online (at least to my house) anymore. But the Target website shows them available at a few stores near me, so if you're up for a run to the store, you can probably still get your hands on one, as long as you act fast.
And there's even more good news: These kits retail for just $9.99. That means you can get one to assemble, and one to just munch on, because everyone knows the only good thing about building a gingerbread house is eating all the pieces after it collapses. Fa-la-la-llama, and happy holidays.
This article was originally published on