Target's Microwavable Stuffed Animals Make Great Gifts For Anyone Who Loves To Be Warm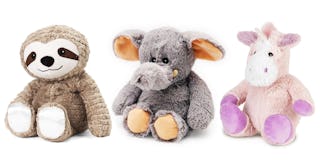 Target
Target offers a line of microwavable stuffed animals you'll want to buy everyone in your life
If you need a little help knocking out the rest of your holiday gifts this year, look no further than Target (really, does that surprise anyone?). The red-bullseye retailer carries a line of heatable, lavender-scented plush dolls called Warmies Stuffed Animals that are almost too cuddly and cute. They're sure to warm the heart — and, ya know, everywhere else — of anyone left on your gift list.
Sure, they're probably geared more toward the under-10 crowd. But when has that ever stopped any of us from enjoying all that life has to offer? There are some things you're never too old to enjoy. Like Fruity Pebbles. Or, more to the point, microwaveable stuffed animals that are like a snuggly hug and a cure for cramps in one precious package.
Take it from someone who knows. And by "knows," I clearly mean "gifted her own children with these Warmies and continually steals them for herself under the dark cover of night." My children each have two of these and, before all is said and done, we may end up with even more. It'll be like the second coming of Beanie Babies in this '90s kid's life, with the exception that these Target dolls actually serve a purpose.
Made by Intelex, the 12- to 13- inch plushes come in a wide variety of cuddle-ready animal forms that'll only set you back around $22 (some run around $24). Plus, you only have to pop 'em in the microwave for a minute before enjoying. I opted for a prehistoric pick for my son with this adorable green dinosaur, who goes by the name of Taco in our household.
For my fairytale-loving little girl, it had to be a unicorn. Hers, in case you're curious, answers to Cupcake. And yes, my children name their favorite stuffed animals after Mexican food and baked goods because, priorities.
We rounded things out with this plush purple hippo.
But this pink llama is currently sitting in my shopping cart.
If you really want to make it easier for your gift recipient to wrap themselves in the comfort of a Warmie, you could always go for one of the line's neck wraps. The sheep looks like something straight out of a sweet dream.
The frog feels like a smart choice for the nature-loving kid in your life (who, in all likelihood, has gifted you with a real-life frog at some point).
Basically, you can't go wrong when you stock up on these sweet gifts. Just remember not to submerge them in water. They won't go all Gremlins on you — although that does sound fun — but it won't bode well for the French lavender inside. And speaking of that lavender, here's a cool fact: It's carefully sourced from local growers in Provence, France.
Another thing to keep in mind? If you don't put any under the tree for anyone in your home, maybe order an extra one or two to have on hand JIC. If you don't find a last-minute gift recipient for them to go to, you can use them to ease all the tension pent up in your shoulders from holiday shopping.
This article was originally published on