Don't Forget These Thanksgiving Essentials For The Best Holiday Ever
by Rachael Lubarsky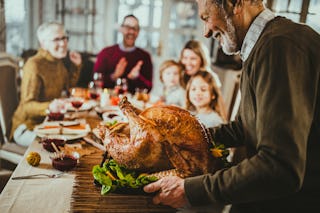 Source: Getty Images
Thanksgiving is a mere 9 days away and whether you've created your shopping list down to the last potato or you're still wondering how big of a turkey you have to buy (FYI: It's between 1 and 1.25 pounds of turkey per guest), there's still some time to fine-tune your game plan this year. The secret to a successful day of eating and laying around is all in the details. (Well, that and some creative table seating arrangements.) So aside from the obvious staples (cranberry sauce and pie, natch), make this list and check it, um, twice.
Ice, Ice, Baby. Do you want to tell Uncle Louis you ran out of ice and he'll have to drink his scotch on the rocks with no rocks? No, you don't. Nobody does. So, stock up.
Special Serving Dishes. Thanksgiving calls for serving up your gravy or mashed potatoes in something a little more festive than that chipped Pyrex bowl you sometimes feed the dog out of.
Storage Containers. Sure you could wrap layers of tin foil over everything you cooked right in the pot, but won't you feel more organized (and adult) storing leftovers in actual sealed containers you can easily identify the next day?
Holiday Cooking Tools. If we had a dime for every time we went to use a meat thermometer that broke last year and was never replaced…we could get the whole freakin' meal catered. Make sure everything you have is in good working order (and clean).
Here are some more ways to upgrade your home and your kitchen for this year. Happy Thanksgiving!
This article was originally published on