Birthstone Jewelry For Mom Is The Thoughtful Gift She Wants (Trust Us)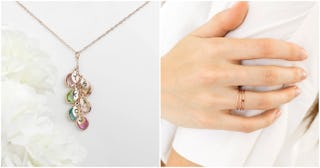 Amazon Handmade / Made by Mary
A birthstone necklace for Mom — or any kind of birthstone jewelry, for that matter — is a thoughtful gift she'll cherish, so if you're stuck on what to get her for Mother's Day, Christmas, her birthday, or any other occasion, you can stop right here. Getting a personalized piece of jewelry for any mom in your life (be it your mother-in-law, sister-in-law, bestie, etc.) goes the extra mile when it comes to being sentimental because it means you're celebrating what she holds dear. You can choose a birthstone that has meaning, plus many pieces can be custom-engraved with initials, names, or messages to make it extra special. It's an elegant present she'll treasure for years, and even if you're not able to see her for the holiday (*sniff*), it's an item that can easily be delivered so she knows she's always on your mind.
Birthstones have significant meaning that goes beyond just having been born during that month window. They represent wellness and good fortune, which are two things we can all use nowadays. Needless to say, a Mother's birthstone necklace hits all the high notes (and there are even options you can order last-minute to arrive just in time — we won't tell!). Here are some of our favorite birthstone jewelry pieces to show Mom how special she really is!
Best Birthstone Necklaces For Mom:
Best Birthstone Jewelry For Mom:
Best Personalized Jewelry For Mom:
Have more loved ones to shop for? Check out more of our holiday gift guides here.