I Finally Found An Immune-Strengthening Supplement That My Kids Will Actually Want to Take
by Team Scary Mommy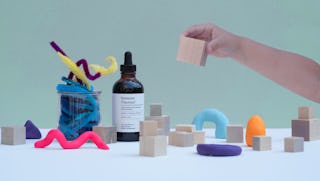 The Well
Yes, cold and flu season is still happening this year — even as a global pandemic continues to wreak havoc on our country. All things considered, it's safe to say that keeping our immune systems strong is at the top of our minds these days.
Hopefully, you're taking precautions against germs already — washing your hands (or using hand sanitizer on the go), keeping your (social) distance from others, and wearing a mask in public places.
But there are other proactive steps to ensure that you — and your family — stay healthy this winter. "The immune system is like a muscle," says Frank Lipman, MD, Chief Medical Officer at THE WELL. "You need to train it to optimize its function, so when you really need to use it, it can cope with whatever it has to deal with." In other words, just like your biceps or your glutes, your immunity fitness can get stronger through training, healthy lifestyle habits, and the right supplements.
One I've been loving lately is the Immune Tincture from THE WELL. Made for both kids and adults, it's a doctor-designed, vegetarian herbal supplement that's free of gluten, soy, dairy and GMOS. The liquid tincture is filled with ingredients that help strengthen your immune system and support its self-regulation, including medicinal mushrooms, astragalus, elderberry, and wild cherry bark extract.
Side note: Did you know it's a common misconception that you want to "boost" your immune system? In fact, your internal defense system requires a delicate balance to stay strong. You don't want it to under-react and allow invaders to take hold, but you also don't want it to overreact. This results in an immune response known as a cytokine storm, Lipman notes, which can lead to hyperinflammation that can seriously harm or even kill a patient, as has happened in some COVID-19 cases.
Instead, you want your immune system to be strong, balanced and ready to jump into action — without going into overdrive. And this yummy-tasting Immune Tincture is designed to help it do just that. It has a wild berry flavor that your kids (and you) will love, and it's far more enjoyable to take a dose of this in liquid form than swallow a giant, chalk-y pill or tablet.
The ingredients work in tandem with each other to deliver a truly effective dosage that can enable your immune system to its best work during the upcoming cold, flu, and yes, COVID, season.
The medicinal mushrooms in the product (not to be confused with magic mushrooms!) are of the shiitake and maitake varieties. Shiitake mushrooms offer fiber and amino acids, as well as B vitamins and various minerals, while maitake 'shrooms are rich in antioxidants, beta-glucans, vitamins B and C and more. Studies also show beta glucans, compounds that make up the walls of these mushrooms, have immunomodulating properties — meaning they can help the immune system regulate itself respond to threats in an adaptive (rather than maladaptive) way.
Astragalus is one ingredient I wasn't familiar with until seeing it in this product, but now I'm a huge fan. An adaptogenic herb, astragalus has been used for centuries in Chinese medicine. It has anti-inflammatory and antibacterial properties, which can help protect the immune system.
Another starring ingredient is elderberry, which has long been praised in the holistic health communities for its immune-strengthening powers. The berries are filled with antioxidants and vitamins, helping to tame inflammation too.
The final piece of the immune-strengthening puzzle: wild cherry bark extract. A medicinal herb derived from the black cherry tree, it's known for its antiviral and antibacterial properties, and is also rich in minerals such as zinc, iron and magnesium.
To take advantage of all these benefits, all you have to do is take one dose of the Immune Tincture each day. The recommended dose for adults is one ml (approximately 35 drops) per day, and for children the rule of thumb is one drop for every five pounds of body weight, or as directed by your healthcare practitioners. It's safe and effective for all ages — but as with all things, it doesn't hurt to check with your children's doctor before giving it to them!
The Immune Tincture is available at THE WELL for $44 ($39.60 with a subscription).
This article was originally published on