TikTok Halloween Costumes Only True TikTokers Would Understand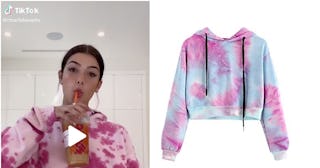 TikTok/Amazon
Halloween may look different this year, but you can still celebrate. Pull out all your best Halloween home decor, get your fill of pumpkin spice everything, stock up on candy, and of course, find a unique costume. If you're in need of a little inspiration, there are plenty of classic, creative, and funny ideas on Tik Tok. (And while you're at it, you may also pick up a dance move or two.) You can either literally dress up as a famous TikToker (anything VSCO will do, to be honest, and we'll get to that in a second), or you can pick your favorite TikToker or Hype House member to emulate. Best of all, you probably have a lot of this stuff at home already, it's mostly about adding the finishing touches to your cart, like a tie dye hoodie, or beaded necklace.
Here are 2020's best TikTok Halloween costumes.
VSCO Girl
VSCO girls are everywhere on TikTok, and even if you're not one, it's incredibly easy (and comfy) to look like you are. You just need to wear an oversized T-shirt, put some scrunchies around your wrist, and carry around a Hydro Flask and hipster Fjallraven backpack. Bonus if you walk around saying "sksksk."
Charli D'Amelio
Charli D'Amelio (and her sister, Dixie D'Amelio) is one of the most popular TikTok stars on the platform. With over 86 million followers and endless #sponsored ads, there's no way you haven't seen Charli on your feed (especially since she and Dixie are the faces of Morphe Cosmetics). Do be Charli, all you really need is a tie-dye oversized hoodie and something very, very branded to show that this is an #ad and you are all about that #spon content.
A Step Chicken
To know what the Step Chickens are, you need to be *deep* in TikTok. The Step Chickens are @chunkysdead's cult followers, and @chunkysdead is a popular TikToker who posts usually very inappropriate and dark videos (so FYI, not the best costume for your kid, but maybe you or your teen will appreciate it). Melissa Ong (@chunkyshdead) is big on the athleisure, and she has her own merch shop, so you can always look there for more inspo.
Lil Huddy
Lil Huddy, or Chase Hudson, is another TikToker famous for, well, just being on TikTok and doing his thing (and sometimes causing drama with other TikTokers). Chase doesn't have a specific style per se — he dresses like most teen boys would. We'd suggest wearing a necklace (he can almost always be found wearing one), nail polish, a flannel shirt, and a trucker hat. It definitely helps if you *really* commit and shave part of your eyebrow and have '90s Leo DiCaprio hair, but that's asking a lot.
Willy Wonka TikTok
Willy Wonka TikTok is a guy named Duke Depp who posts videos of himself dressed up as Willy Wonka based on the 2005 version starring Johnny Depp. He dances and mimics Willy Wonka by calling everyone "children," and it's pretty hilarious and weird. This one is easy: Just find a coat, oversized sunglasses, wig, and hat.
Preteens Now Vs. Preteens Then
This is perfect for a group of friends or family members (it'll be hard to pull off solo). The premise of this is comparing what 2020 preteens do and dress like versus what preteens in the mid '90s to early 2000s did and dressed like. If you already have a teen in the house, no need to buy anything. But if you're dressing up as a teen from ye olde days, we have a few suggestions.
The Strawberry Challenge
Back in May, one of the most popular TikTok challenges was extracting bugs from strawberries using salt water. Dress up as the Strawberry Challenge by wearing a strawberry costume (you can also carry about a bottle of water that says "salt water" on it, if you really want to drive the point home).
Literally, just TikTok
If you don't want to dress up as anyone from TikTok, you can always dress up as someone on TikTok dressing up as someone or something else. Here are the most popular Halloween costumes people are wearing on TikTok this year.
Winifred Sanderson from Hocus Pocus
Celebrate Halloween, Hocus Pocus style. It may take a little practice to perfect the unique red lip of Winifred Sanderson, but pick up a bright red wig and a green velvet dress, and you're on your way to a spell-binding night.
Avocado
Avocados are superstar fruits. You can put them in smoothies, in salads, on toast, on your face as a mask. You can also put one on your body via this inflatable avocado costume. It may not be as delicious as the real thing, but it's certainly less messy.
Taco Belle
If you have a BFF, partner, or family member who wants to go in on a couple's costume, here's one that is funny and punny. Pair up for a "Taco Belle" dynamic duo, which combines two beloved things: tacos and Beauty and the Beast's Belle.
Robin from Stranger Things
Travel back to Hawkins, Indiana in the '80s, when working at an ice cream parlor was cool. This retro Scoops Ahoy uniform comes with a blue romper, Robin name badge, and sailor hat to complete the look. Your Stranger Things-themed Halloween won't even require a trip to The Upside Down.
Harry Styles Songs
Harry Styles has a number of catchy pop songs, but several of his song names — like "Watermelon Sugar," "Sunflower," "Cherry," and "Kiwi" — also lend themselves to easy, fun Halloween costumes.
For more costume and decor inspiration, check out our best Halloween ideas.