These Are The Best Scooters For Toddlers Who Are Ready To Roll Around The Neighborhood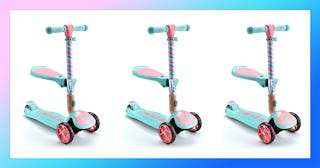 A scooter is more than just a cool toy used to pass the time. The best toddler scooters out there are ones that help little ones learn balance and coordination (while also, of course, entertaining them for hours on end). While older kids will be able to master two-wheel scooters fairly easily, toddlers between the ages of two and five should opt for a three wheel scooter: they're more stable and sturdy, and allow them plenty of room and space to learn while also keeping them safe. Consider the scooter their graduation from the push car or tricycle. Pretty soon, you'll be looking for big kid bikes for your little one.
A three wheel scooter for kids has so many other advantages aside from just helping toddlers learn gross motor skills. When a toddler learns how to do something like ride a scooter, which is really challenging for them, it helps them build confidence, which gives them the self-esteem boost they need to take on difficult tasks in the future. It also gets them outside for some fresh air and activity time that's safe (as long as it's socially distanced from other kids or solo) and fun.
Aside from all of that, though, scooters are just fun for the little ones. They're a new way for them to zip around without being strapped in a stroller or a play car, and they help them feel more independent and happy. What more could you want for your kids as they grow up?
Below are a few options for the best scooters for kids out there that are safe, versatile, and fun.
Best Scooters For Toddlers
Best 3-Wheel Scooter for Kids
Best Scooters With Seats
Looking for more gift inspo for kids? Check out our recommendations for the best kid gear.