Give Your Teeth Some Extra TLC With This Highly Rated Toothbrush And Water Flosser Set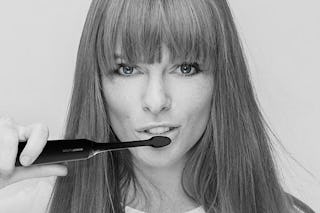 StackCommerce
The pandemic has resulted in delays in dental care for many individuals and families. Since a lot of dental offices can only accommodate a certain number of patients per day, people have had to wait a bit longer for their regular dental checkups. This necessitated a step up in maintaining dental hygiene, so you can at least dodge incurring preventable problems like tooth decay and gum issues.
If you can't set up an appointment with your dentist as often as you want to, your best course of action is to give your chompers some extra TLC. You can do that with the Mouth Armor Sonic Toothbrush with Cordless Water Flosser, a highly rated toothbrush set designed to remove plaque, bacteria, and debris.
Boasting a 4.3 out of 5 Amazon's Choice rating, this set comes equipped with a Mouth Armor Sonic Toothbrush with brush head bristles that vibrate at a powerful 38,000 sonic motions per minute, giving you a full, thorough cleaning every time. Three adjustable water pressures are built-in, so you can choose the best cleaning mode for your teeth, and the accompanying water flosser offers the easiest and most effective way to floss. It also features 2-minute auto-timer pulses every 30 seconds, notifying you when it's time to switch.
Powered by a lithium-ion battery, the toothbrush can last up to 6 weeks on a single charge. It's also waterproof, so you'll have no problem using it in the shower.
Give your pearly whites the care they need with this toothbrush set. Formerly $279, you can grab it on sale for only $69.99 for a limited time.
Prices subject to change.
This article was originally published on