Trader Joe's Is Selling $6 Yoga Skeleton Air Plants For Halloween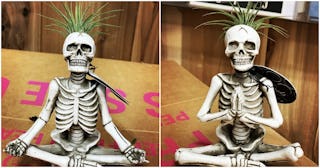 Instagram
You're going to want to head to Trader Joe's ASAP for one of these $6 Halloween decorations
Halloween may still be over a month away, but that chill you're starting to feel in the air says it all: It's officially spooky season. And spooky season demands spooky decorations. There's no shame in having them up long before Halloween — it just means you get more time to enjoy the spooky aesthetic of the season. And that's why you're going to want to run, not walk, to your closest Trader Joe's to nab the latest must-have piece of Halloween decor to hit store shelves this year.
That's right — Trader Joe's, home of our favorite healthyish chips and dark chocolate peanut butter cups and cookie butter and cheap-but-still-delicious-wine, has gotten into the Halloween decor game. The store has these adorable tiny air plant planters that are shaped like skeletons doing yoga, and they're already making a huge splash on social media.
https://www.instagram.com/p/B14PtYBpuTR/
We can see why. This might be the cutest Halloween decoration to happen since the repurposed ceramic Halloween trees.
We need several in our homes immediately.
Oh, and here's the best part: These little plant friend cuties are just $6. SIX. DOLLARS. Go ahead and fill a cart with them. We won't judge. In fact, we fully support that because you need one of these fun boys on every surface in your home this Halloween season.
And for those out there who are skeptical because they decidedly lack a green thumb, not to worry! Air plants are some of the easiest plants in the world to care for, only needing water every week or two. Yep, aside from making perfect hair for tiny skeleton yogis, these plants are hard to kill because you can just ignore them for a couple weeks at a time. Go ahead, buy as many as you can carry.
Just do it quickly, because people are reporting that some Trader Joe's stores are already selling out of the little guys. No surprise there, the Halloween decorations that have been breaking the internet this season have pretty much all sold out at one point or another. The good news is it's still over a month until Halloween actually hits, so if your TJ's has sold out of enlightened skeleton friends, the odds are good that they'll restock before they stop carrying them.
This article was originally published on