Don't Even Think About Traveling With Kids Until You Read This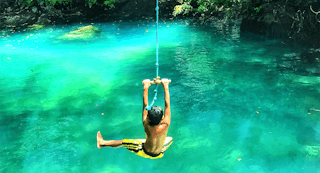 Pexels
One if by land, two if by sea. That's about the number of cocktails you'll require when you travel with kids. (And, that's PER kid.) That's why you need a vacation strategy this year, Mama. Whether you're planning a multi-city globe-trotting tour, a road trip across a couple of states, or boarding a a plane with your tribe, here are some kid travel tips and products to keep them engaged and your sanity intact.
1. Set Expectations
We all know new environments and schedules can throw kids for a loop, so give them plenty of time and info to get ready. Get them excited about your vacation destination through picture books or online videos. If this is their first time on a plane, talk through the process of security lines, boarding, and taking off, so they'll know what to expect.
2. Give Yourself Extra Time
Last-minute rushing to catch a train or flight is stressful. Dragging kicking and screaming kids along is soul-crushing. Leave extra time to get to the airport or wake up a few minutes early to enjoy a leisurely breakfast if you have to get on the road by a certain time.
3. Don't Overpack
Trust us, your kids will not need every stuffed animal they own on this trip. Bring the essentials like the kids travel bags, but embrace a "less is more" approach, because the last thing you want to do is throw your back out lugging around heavy suitcases of things you don't need. Unless you're traveling to the Australian Outback, you can probably pick up anything you forgot.
RELATED: 26 Best Kids Luggage Pieces For Your Next Family Vacation (Whenever That May Be)
4. Bring Entertainment
A vacation requiring long stretches of car or plane time is the perfect excuse to temporarily throw your screen-time rules out the window. Preload tablets with new and favorite shows, movies, and educational apps. Just remember to do it before you leave your home Wi-Fi! And don't forget those travel games for kids.
5. Surprise Them With Gifts
Head off meltdowns with strategically-timed presents of new toys or books. Hey, a little bribery never hurt anyone.
6. Snacks, Snacks, And More Snacks
Did we mention snacks? Behold the powerful distracting capabilities of Goldfish, Cheerios, or fruit snacks. Some carefully curated finger foods will cure their hangriness — and yours.
7. Stroll Lightly
Consider picking up a lightweight travel stroller before your trip. Your regular stroller might be too bulky and heavy to lug around during travel.
8. Plan Perfectly
Back in your backpacking days, you probably hit 10 landmarks before sunset, but good luck doing that with kids in tow. Keep expectations low and don't over plan. Try to schedule activities in the morning when younger kids have the most energy and don't schedule stuff back to back.
Create a travel strategy that keeps the energy levels high and the number of tantrums low. And don't book a single ticket 'til you invest in these critical globe-trotting kid essentials.
Products That Will Make Traveling With Kids Easier
Now, put these travel tips to use, Mama! Check out our fave fun destinations for families:
Galveston, TX Louisville, KY San Diego, CA Toronto, Canada
And for more great products to keep children entertained, check out our Kids Gear picks.
This article was originally published on