The Best Twin Car Seats For Towing Two Around Town
by Jenn Sinrich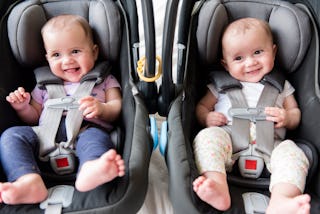 Getty Images/ JGI/Jamie Grill
The best twin car seats aren't double units like twin cribs and bassinets or twin strollers, but they do have certain features that make them more desirable if you're prepping for two babies. Buying big-ticket baby items like car seats for one baby is stressful enough, and if you're purchasing this super important piece of equipment for two, it can feel even more overwhelming. When shopping for the best car seats for twins, there are twice the amount of factors to consider: You not only want to purchase a car seat that has top-notch safety ratings and stellar customer reviews, but you also want to choose an affordable brand since you're spending twice as much. When purchasing twin car seats, you also have to consider the size of the car seat, seeing as you will be stuffing two car seats into your car as opposed to one.
The good news is, that there are so many wonderful car seats on the market that are designed to be used in a vehicle with more than one car seat, whether you have twins or more than one child who still rides in a car seat. What's more: So many of the car seats on the market are safe, durable, have all the desirable bells and whistles, and pass the test of time.
Here are the mom-approved car seats that are most ideal for twins.
Best Car Seats For Twins
Looking for more mom-approved baby gear? Check out our baby gear page.
This article was originally published on