Ugly Halloween Sweaters Are The New Ugly Christmas Sweaters And We're Here For It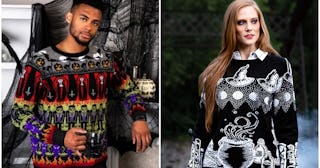 Image courtesy of brands
Whether you love them or loathe 'em, ugly sweater parties are one of the kitschiest Christmas traditions. You know the drill. Find the most hideous-looking red and green, blinged out, holiday-themed sweater that looks like it belongs in the museum of ugly clothing and wear it with pride, all for the sake of being festive. In case you are one of those people who lives for ugly sweater parties, you will be happy to know that you don't have to wait until the holiday season to put on your party pants. Hello, Halloween ugly sweaters, a new tradition mirroring ugly Christmas sweaters that is so about to happen.
This year, since many of us will opt to stay home and stay safe during the pandemic, it might feel like a lot to put on a Halloween costume and get super dressed up for an occasion we're celebrating kinda solo. An ugly Halloween sweater is just the thing to feel like you're truly participating in Halloween (and you get to stay warm and comfortable all day/night long).
In case you want to channel the Christmas spirit into Halloween even more, you should also think about investing in a Halloween tree. Because yes, they exist as well.
The best ugly Halloween sweaters:
This article was originally published on