The Best Travel-Friendly Umbrella Strollers For Mom-ing It On The Go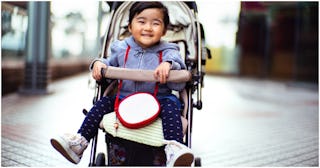 Getty Images/ images by Tang Ming Tung
Umbrella strollers make mom-ing so much easier when you have a baby or toddler in tow. Okay, maybe not so much easier, but an umbrella stroller will definitely lighten your load. If you're looking for a lightweight, compact stroller that is smaller and more portable than a full-size bassinet stroller, an umbrella stroller is the way to go. Yes, regular strollers are great and serve their purpose, but can you fold a heavy-duty stroller with one hand and throw it in your trunk while holding your kid and one too many grocery bags? Probably not. But can you multitask like the badass supermom you are when using an umbrella stroller? Absolutely.
Why is it called an "umbrella stroller"?
For starters, an umbrella stroller doesn't get its name because it has a protective hood to shield your LO from the rain (although, many do). Rather, these strollers are designed to be lightweight and travel-friendly, as they can easily fold up (you know, like an umbrella). These miracles-on-wheels are easy to lift, easy to push, easy to collapse, and easy to love. Depending on your needs, this style is great option to use as an everyday stroller, as a supplement to your regular stroller, to take traveling, or to keep in your trunk for errands.
When can you start using an umbrella stroller?
It's important to note that most umbrella strollers are designed for babies 6 months and older who can sit up on their own. Ask you're pediatrician if you're unsure whether your babe is ready.
What should you look for in an umbrella stroller?
Here are some things to keep in mind before jumping into an umbrella stroller (figuratively speaking): They typically have less storage than larger strollers and may have a lower weight limit. Some are easier to maneuver than others, some have reclining seats while others don't, but most have a sunshade so you can protect your tiny passenger from the elements.
Now that your questions are answered, are you ready to shop? Good news! We gathered our favorite umbrella strollers that don't cut corners with key features — check 'em out below.
Best Umbrella Strollers