25 Gift Ideas For Violinists, In Case You're Having Treble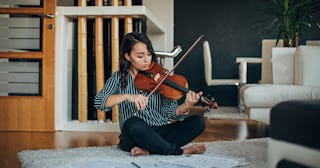 Getty Images/South_agency
Looking for the best violin gifts? The violin is a notoriously complicated instrument to master. Listening to a beginner practice is arguably just as painful as listening to any 5-year-old with a motherf*cking recorder. (Weird how those things always get lost!) But if your favorite music lover got past that awkward stage, you might find yourself shopping for the best violin gifts to encourage their orchestra obsession. Personalized violin gifts are a great way to acknowledge their identity as a musician, but there's plenty of violin accessories that could always use a refresh.
Whether you're shopping for a music student or having treble (ha!) coming up with a gift for a violin teacher, here's a round up of the highest rated (and pretty affordable) violin gifts, accessories, and beginner sets. (If purchasing a beginner set, then I suggest you pre-gift yourself some ear plugs, just to get you through the first few months.)
Best Violin Gifts
Gift for Violin Teacher
Personalized Violin Gifts
Looking for more gift ideas? Check out the rest of our gift guides!