Vote Masks You Can Still Buy Online To Urge People To Do Their Part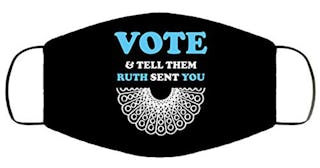 Amazon
Election Day is a mere 18 days away, and if you're mailing your ballot, it needs to be postmarked by October 19 — that's on Monday, y'all! While all elections are super important, this one is REALLY, super important. We've been vocal about where we stand on politics pretty clearly here at Scary Mommy, but if you weren't sure, you can check out the homepage. Look: At the end of the day, we support human rights, a woman's right to choose what she wants to do with her own body, and we are incredibly vocal about the racial injustices that we continue to witness, the disproportionate incarceration of minorities, and our broken justice system.
We're fighting against voter suppression and the demonization of immigrants in this country by, yes, our current president. We believe climate change is real and that major steps must be taken to combat global warming (starting with a president who seriously acknowledges it). And we've made it pretty clear that the current Trump administration did not do enough to protect Americans from COVID-19.
So, if you have friends or family who are "unsure" about voting, or reluctant because "both sides suck," we get that there's validity to that opinion. But if you care about the well-being of people who live in this country, you'll know who to vote for this election season. And to remind others to do their part, we've rounded up some "vote" masks that you can get ASAP and wear loud and proud to send the message.