Over 2,700 People Have Given Wag Dog Food A 5-Star Rating — And My Pup Loves It, Too
by Team Scary Mommy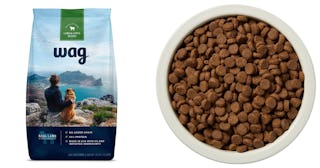 Amazon
I have a one-year-old German Shepherd who only gets excited about food when I eat the kind meant for humans at the kitchen table. If any of you have a pupper who's super nonplussed by regular 'ole dog food, you probably feel me. Eventually, she'll eat, but she does it with the enthusiasm of someone filing their taxes. Something necessary, but let's get it over with. I've gone through countless brands of dog food (Purina, Kirkland, Victor, Hill's, etc.) and have even mixed in real bits of chicken and pumpkin puree (she'll just eat the chicken and pumpkin and struts away), and nothing has really done it for her.
Until I ordered a bag of Wag (say that five times!) because I was shopping on Amazon anyway, and noticed that they're having a 40 percent off promotion. I have a Prime membership, so it got delivered to the house two days later, and I gave her a scoop (mixed with her old food as to not shock her GI), interested in how she'd react. Reader, she liked it! *Using Life cereal kid commercial voice* "She likes it, Hey, Sasha!" She's been eating the lamb (no grains added) variety for a few weeks now, because we found that's what's best for her sensitive tummy. It's the first time in a while that she comes sprinting to the kitchen when her big old Yoda ears hear me crumpling the bag with my scooper. She's happy, she's healthy, and she's full of her normal, shepherd energy.
Made with high-quality ingredients that include minerals, antioxidants, and phytonutrients;. salmon oil, and flaxseed (which have omega-3 fatty acids, including long-chain DHA), you don't have to worry about giving your doggo junk. The food is carefully made at a family-owned facility in California, and it's formulated with the help of vets who have dogs' health at the top of mind. If your dog prefers other proteins, Wag also offers chicken, beef, salmon, and turkey. Other reviewers have praised Wag, as well. 62% of reviewers have given Wag 5-star reviews.
"We are a bag in and no adverse reactions. I have a 10 year old boxer with a very sensitive stomach so I was really worried about switching him. I compared all of the ingredients of Wag to what I was feeding and the comparison held up, plus, Wag doesn't have a couple of questionable ingredients that the other food had (that affects kidney function). After the initial change over, the boxer has not had any stomach issues or excess gas, which was a problem with other foods.
I have 4 dogs and we are 4 for 4 for them liking this. When the bag arrived I opened it and one of the dogs actually started eating straight out of the bag, he has never done that with the other food we were feeding.
To everyone who is saying it is pricey, I am wondering what food you were feeding. A good food isn't cheap, and Wag saves me $30 per bag over what I was feeding and I feel confident feeding Wag to my fur kids. I did the research, I did the comparisons, and I am happy with Wag."
Another commented that not only did her dog love the food, but months after switching over, she noticed how shiny her doggo's coat was:
"My dog loves this food! She had been eating blue Buffalo for years and had food allergies and a sensitive stomach. after I received the food, I realized that I really hope my dog likes it because you get a ton of food it's a pretty large amount. Luckily, my dog is excited to eat it, and has healthy Doo doos after. Transitioning her to this food was easy after 2 days. Will be by in again as it is a great food for the ingredients in the price and my dog seems to like it.
Update since original review: this is our 3rd or 4th order of WAG food, and her fur coat is SHINY!! I've never seen her fur coat so shiny before. She looks beautiful it's got to be the food! I added pics of her fur so people can see.the shine coming off her fur. It looks healthy!"
If you're curious, but not sure about committing to a full-sized bag, you can always purchase a trial-sized one. If you ever have any questions about dog food and nutrition, you should always ask your vet (we're no pros here, we just love our furry babies). And what works for one dog, might not work for the other, so just be sure to do your research.
For the days when it slips your mind and you're ordering last minute, make sure to sign-up for Amazon Prime to get free two-day shipping! Prime members also have access to tons of Amazon deals (pet and human-related) for only $12.99 a month or $119 a year. Make sure you and your pupper have everything you need, whenever you need it.
This article was originally published on