Get Amazon Music Unlimited For Free — For Three Months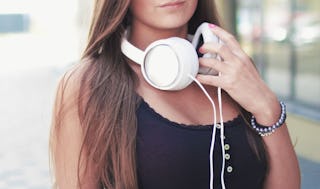 Pexels
Listening to music has been saving our year. Bad day? Listen to our grumpy time playlist. Kids annoying TF out of you? Listen to something zen while you do some yoga or hide in the bathroom with wine. Working out at home? Blast that electronica. Or whatever gets you going and feeling better! Get ready to bump your favorite tunes at a price possible to pay. Amazon is running an insane deal right now which offers access to a comprehensive library of songs and artists… for free. For three months you get Amazon free music. This is a limited promo, so get on it!
The savings only apply to brand new Amazon Prime members, so you'll be able to access the deal once you sign up for Prime. The best part? The music will last you four whole months, instead of a wimpy 30-day trial.
What do you get with Amazon Music Unlimited?
Subscribers have access to unlimited music, on demand and always advertisement-free. You can listen offline (hello, grueling flight!), skip over as many songs as you want, and of course, use it with any of your Alexa devices.
What the Amazon Music Unlimited Family Plan?
If you have offspring, siblings, heck, even cousins who leach off all your plans, there's actually an Amazon Music Unlimited family plan, and it only costs $14.99 after a 30-day free trial. You get 60 million songs, up to six devices can use the platform at once, and it's fully compatible with Alexa and Echo products, making it way more seamless to listen to music at home.
Amazon Music Unlimited vs. Spotify: What's Better?
Amazon Music Unlimited and Spotify are both streaming music platforms, but which one is better? It really depends on your preferences, but both are comparable. In fact, Amazon Music Unlimited is $7.99 for for Prime members and $9.99 a month for non-Prime members. Spotfiy is $9.99 if you don't want ads, but you can listen to Spotify for free — you just have to deal with constant ads every couple songs, and you have a limit to how many songs you want to skip ahead. Spotify's family plan is $14.99 per month. On the flip side, if you just want Amazon Music Unlimited for your single Amazon device, you only have to pay $3.99 per month. Amazon Music Unlimited has 60-70 million songs, and Spotify has 50 million.
Amazon Music Unlimited vs. Apple Music
Apple Music's pricing is comparable to Amazon Music Unlimited: After a three month free trial, you can sign up for $9.99 per month, and a family plan is $14.99. Apple Music offers 70 million songs, pretty much on par with Amazon Music Unlimited. It all comes down to which platform you prefer, because all the offerings are actually more or less the same.
This article was originally published on