The Worse The White Elephant Gift, The Better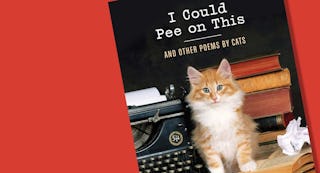 I Could Pee On This
The holidays are upon us, and that means you will attend at least one party where you'll have to bring a gift for a gift exchange. If you are lucky, your hosts will hold a white elephant party. Because white elephant gift exchanges are the excuse to buy the very best worst gift ever.
Yes, seriously.
Side note: According to a little bit of completely unscientific research, the term "white elephant" was coined because the King of Siam was in the habit of giving albino elephants to courtiers who had displeased him. His hope was that those who had crossed him would be ruined by the cost of taking care of an unexpected pachyderm. Seriously, WTF?
These days, white elephant parties don't involve gifting 2-ton animals who will shit in your living room, but the one rule is that the gift must be hilarious. The goal is to "entertain, not gain" when you leave the party. OMG, what a time to be alive.
While the idea of buying the worst gift ever seems appealing at first, our sense of decorum can be offended by purchasing fake dog vomit or a 108-foot orange extension cord (which I may or may not have purchased for the last white elephant party I attended). But don't you worry. We've come up with a list that will make you beg your friends to have a white elephant party just so you can buy these things.
Now you, too, can be hipster AF without the burden of growing actual facial hair. Move over, Movember dudes, we are taking over with this nifty little hat. Merry Christmas.
Look out — this magical, rainbow unicorn farts! Squeeze Sparkle Toots' taco bag and just like anyone of us after Taco Tuesday, Toots lets out a little fart. He'll also say things like, "Don't squeeze me, I'll toot!" and "Do you want to see how rainbows are made?" L-O-L
Haven't you ever looked at a plate of king crab legs and thought, "I love these crabs so much that I wish I could snuggle up to their claws and take them to bed with me?" No? Just me? Bonus points if you can make sure this gem lands in the hands of the bitchiest mom at the white elephant party.
Let's face it: Everyone thinks cats are assholes. In fact, a cat would think nothing of peeing on your white elephant gift. So this book is just puuurrrfect.
Move over, Dr. Pimple Popper! If there's a pimple-popping obsessed person in your friend group, then this is the gift for her. Made of 100% skin-friendly silicone, this "decompression" and "relaxation" toy is a stress ball gone wrong as it lets the user fake "pop" fake pimples. Whatever floats your boat, we guess!
Cordless! Vibrating! Nipple-sucking action! What better way to embarrass a co-worker is there than to show up with this tit-ilating worst gift ever?
Hey, we're not trying to get political here… we're just saying if the wipe fits!
Related: Freak Out Your Friends With These 10 Festive Gag Gifts
This article was originally published on