Just FYI, Autumnal Yankee Candles Are On Sale Ahead Of Prime Day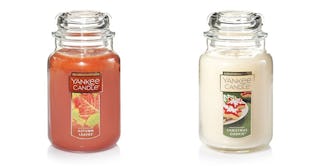 Amazon
Prime Day 2020 is happening (October 13 and 14, mark your calendars), but we're already seeing a flurry of good deals coming through, like Amazon's offering of Yankee candles, which are anywhere from 25 to 44 percent off. And look, we're human, we cannot resist a discounted Yankee candle. That would be a lot to ask of us. And to make this year less of a dumpster fire, we're going to stock up on Yankee candles and turn our homes into the autumnal and winter wonderlands they deserve to be.
All candles come in large jars that offer 150 hours of burn time. Which means 150 hours of feeling like you're in your natural element. Light up, put on some tea, bust out that book you've been meaning to read, and lean into this premium level of coziness (even if it's just for 10 minutes, because, well, life).
If you're on the hunt for more candles, check out Scary Mommy's candle collection, featuring scents like "My Last Fuck," "Go Ask Your Dad Vanilla," "Pretend I'm Baking Something," "This Candle Counts as My Fall Decor," and more.
This article was originally published on