These Yoga Army Men Toys Are Inspiring Kids With Anger Issues To Breathe
by Dana Baardsen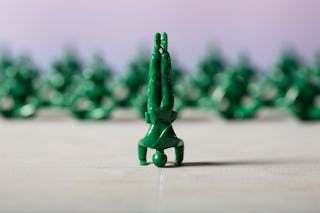 These quirky yoga army men are actually quite cool for kids and adults alike. The figurines provide a perfect excuse for little guys and gals to get their mind in a more relaxed state and practice some deep breathing.
In fact, Amazon reviewers are saying these simple action figures inspire kids who suffer from anger issues take a step back and breathe. The yogis are packaged in a clear, mini yoga studio that features a sleek bamboo floor. This set makes it super easy to choose a yoga pose of the day, too.
More:
Parents Swear By These Cheap Chore Sticks That Put Unmotivated Kids To Work
These 50+ Baby And Parenting Products Are Freaking Genius
Shittens Are The Answer To Our Parenting Prayers
Our mom experts only recommend picks they really love. We may earn a commission on purchases made through links from our site, but if we love it, we know you'll love it. And we Scary Mommies gotta stick together.
This article was originally published on